It's only been a couple of weeks (two to be exact) since Genshin Impact's last update. Version 1.2 gave us a brand new map with accompanying story quests in the icy land of Dragonspine. As well as the introduction of the 5-star Geo sword wielder Albedo. If you missed that update be sure to check out our everything you need to know about version 1.2 here.
Now comes the second part of that update with the introduction of a new 5-star character banner featuring Ganyu. Ganyu is a half-human, half-Adeptus (to be precise, half-Qilin) hybrid and she wields a Cryo Bow.
Who Is Ganyu in Genshin Impact?
"The secretary to the Liyue Qixing. The blood of both human and illuminated beast flows within her veins. Graceful and quiet by nature, the gentle disposition of the Qilin sees not even the slightest conflict with even the most arduous of workloads."

Genshin Impact, MiHoyo
As the secretary of Yuehai Pavilion, Ganyu undertakes many tasks that ordinary folk do not see. The calculations and data behind the Qixing's every decision in Liyue, as well as every ordinance and regulation that is announced, are all the meticulous work of Ganyu.
Each daybreak she stands by the dock, enjoying her breakfast in silence. Even still, by the time the sun has fully risen, she will have returned to Yuehai Pavilion overlooking Yujing Terrace, to continue to fulfil her contract — one that she signed three thousand years ago with Rex Lapis.
Because of her lineage as a half-human and half-Adeptus, Ganyu will provide an interesting link between the human Genshin Impact characters and the gods. She devoutly follows the Geo Archon, Rex Lapis, and it's hinted that there's a connection between the two. So far, though, that connection remains a mystery. However, because Ganyu has served Rex Lapsis so long, she may be the oldest of the Adepti, meaning she's actually thousands of years old. And because she is so closely tied to the gods, Ganyu may be the character who can shed the most light on the mysteries of Genshin Impact's Unknown God.
Ganyu's Character Banner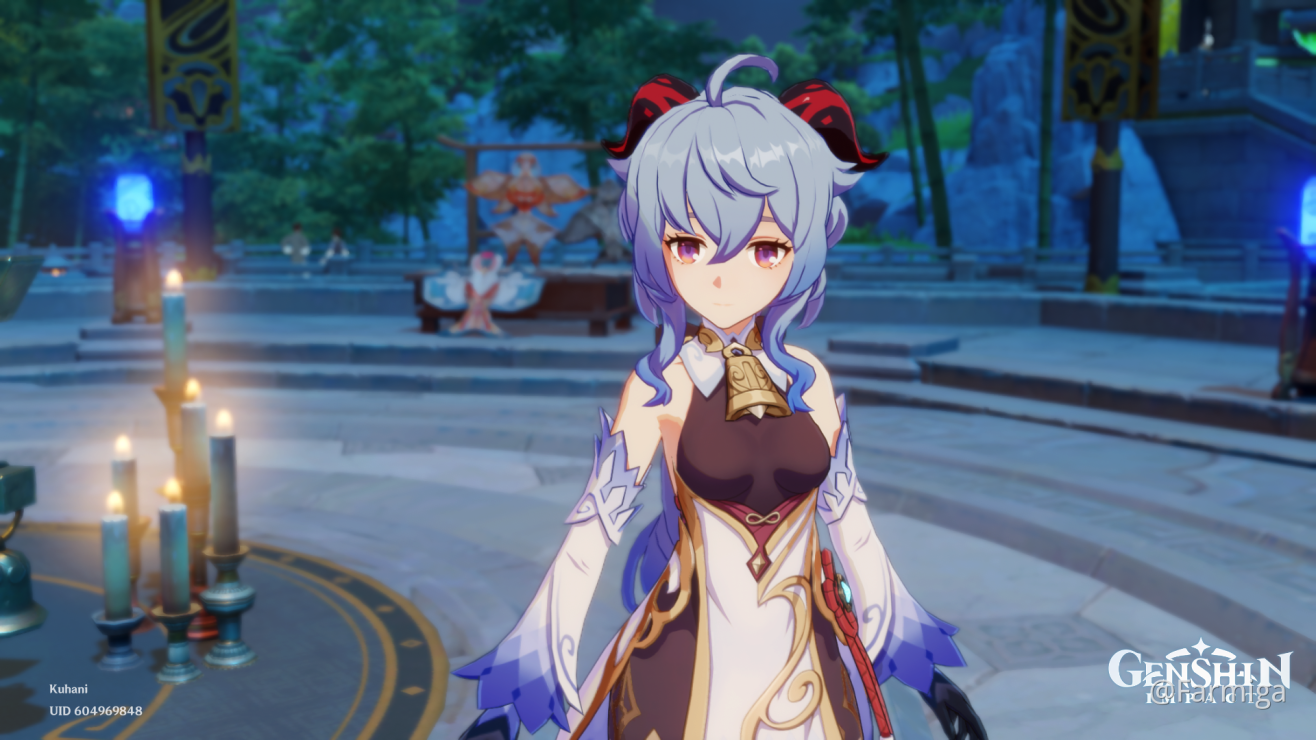 Set to release on January 12th, Ganyu's character banner will be taking that of Albedos'. So if you haven't got him yet you still have a few days to try! Like Albedo, Zhongli, Xinyan and Klee whose character banners were previously released, we expect Ganyu's character banner to be present for the same amount of time – 3 weeks.
For those of you that haven't figured out the math of Genshin Impact's gacha system yet, 5-star character drop rates are a 0.6% chance. But after 90 attempts you're guaranteed a 5-star character. If you wish on that particular character's banner it will increase their rate by 50%.
It hasn't been confirmed what characters she'll be featured with but rumours state that it'll be with Noelle, Barbara, and Beidou.
Ganyu Combat Info
| Weapon: Bow | Role: Burst | Skill: Freeze Enemies |
Talent
Type
Description
Liutian Archery
Normal / Charged Attack
Normal Attack: Perform up to 6 consecutive shots with a bow.

Charged Attack: Perform a more precise Aimed Shot with increased DMG. While aiming, an icy aura will accumulate on the arrowhead before the arrow is fired. Has different effects based on how long the energy has been charged:

Charge Lvl 1: Fires off an icy arrow that deals Cryo DMG.
Charge Lvl 2: Fires off a Frostflake Arrow that deals Cryo DMG.

The Frostflake Arrow blooms after hitting its target, dealing AoE Cryo DMG.
Trail of the Qilin
Elemental Skill
Ganyu dashes backwards, shunning all impurity and dealing AoE Cryo DMG in the form of a single Ice Lotus.

The Ice Lotus continuously taunts surrounding opponents, attracting them to attack it. Its endurance scales based on Ganyu's Max HP, and it blooms profusely when destroyed or once its duration ends, dealing AoE Cryo DMG.
Celestial Shower
Elemental Burst
Coalesces atmospheric frost and snow to summon a Sacred Cryo Pearl that exorcises evil.

While active, the Sacred Cryo Pearl will continuously rain down shards of ice, striking opponents within its AoE and dealing Cryo DMG.
Undivided Heart
Passive Talent
Subsequent AoE DMG will be a Crit Hit if the initial Frostflake Arrow DMG is a Crit Hit.
Harmony Between Heaven and Earth
Passive Talent
Friendly characters that are inside the radius of the "Celestial Shower" gain a 20% bonus to Cryo DMG.
Preserved for the Hunt
Passive Talent
All ores used to craft Bow-type weapons are refunded by 15%.