Wonder Woman 1984 – Easter Eggs You Missed
Wonder Woman 1984 is the reason to renew that HBO Max subscription after you cancelled it while watching Game of Thrones Season 8. Time jumping several decades from the first Wonder Woman set in 1918, the film stars the gorgeous Gal Gadot in her role as Diana Prince aka Wonder Woman.
The movie has already broken HBO streaming records since its release on Christmas Day. And whether you liked the movie or not we gotta give it to the movie for trying to stay true to their comic book roots. As well as dropping as some wonderful little DC Easter Eggs to find. Some of these are quite nicely hidden or reference an obscure point of comic book lore. So let us know if you got them all!
– – – SPOILER WARNING – – –
The Amazonian Olympics
The film opens on a flashback in Themyscira, where they're holding their own type of Olympic games. The "Amazon Olympics" are reminiscent of the trials all Amazons compete in during the comics.
Diana participates in some of the games, which is a nice reference to her 1941 debut in All Star Comics #8. In the comics, after Steve Trevor crash lands on their island, the Amazons compete to decide who is best equipped to accompany Steve to the United States. Naturally, Diana wins.
Steve Memorabilia
Diana Prince's apartment is full of little Easter Eggs of her life. Fun fact: She's no stranger to Washington, DC because she lived here way back in the 1940s. But in all that time it seems that she never forgot about her love Steve Trevor.
Throughout the apartment you can spot photographs of Steve, newspaper clippings, Steve's watch, and a photo of Diana in front of a sign that says "Trevor Ranch". Which we're guessing is some kind of charity ranch in honor of Steve (possibly founded/funded by Diana?).
Etta Candy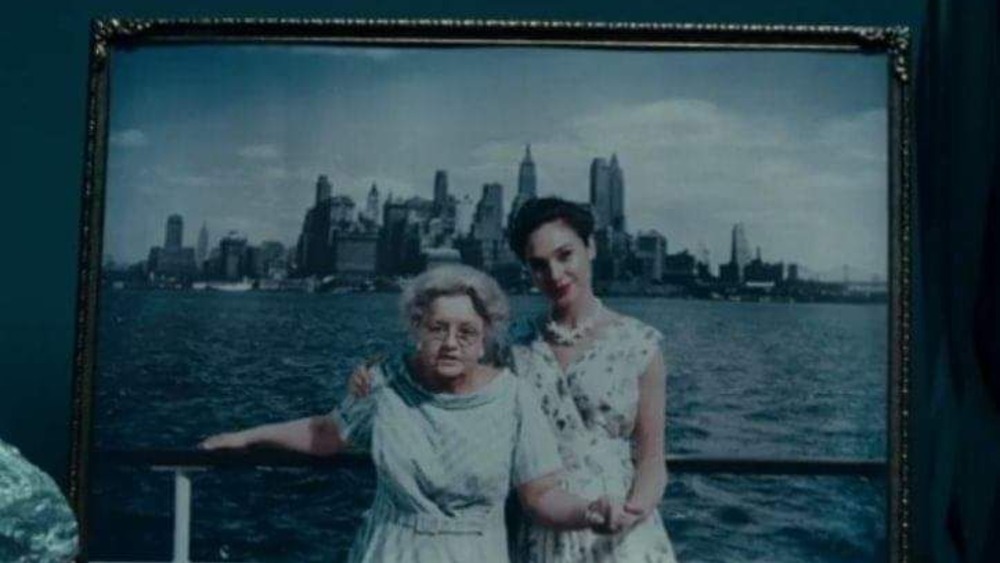 We all remember Etta Candy from the first Wonder Woman movie. It seems that after that time their great relationship continued. There's a photo in Diana's apartment that shows her liberating a concentration camp during World War II with Etta Candy.
Etta and Diana worked together frequently, but if you're wondering why you don't see her in this movie. Well, Etta would likely be in her late 80s or early 90s in 1984, so it's likely that she's no longer with Diana. There's another photo in Diana's apartment with an older version of Etta in New York.
The Invisible Jet
The Invisible Jet makes its debut in Wonder Woman 1984 in a brilliant sequence set during July 4 fireworks.
As Diana and Steve steal a plane to head to Cairo, Diana shows off the power she's been learning to make things invisible, as her father did for Themyscira, to make their plane invisible and allowing them to fly through the fireworks.
In the comics, Wonder Woman couldn't always fly, so she needed a different way to get around, leading to the creation of her preferred mode of transport, the Invisible Jet. It was only a matter of time before it made its way to the movies.
Wonder Woman 1984 Hints At Black Adam
While most of the film is set in Washington D.C., a subplot takes Wonder Woman on a sojourn to Egypt. While in the Middle East, mention is made of the country of Bialya, a fictional nation first introduced by DC in 1987. Introduced in Justice League #2, Bialya houses a strategic military base where supervillain Black Adam slaughtered thousands of locals decades later.
Simon Stagg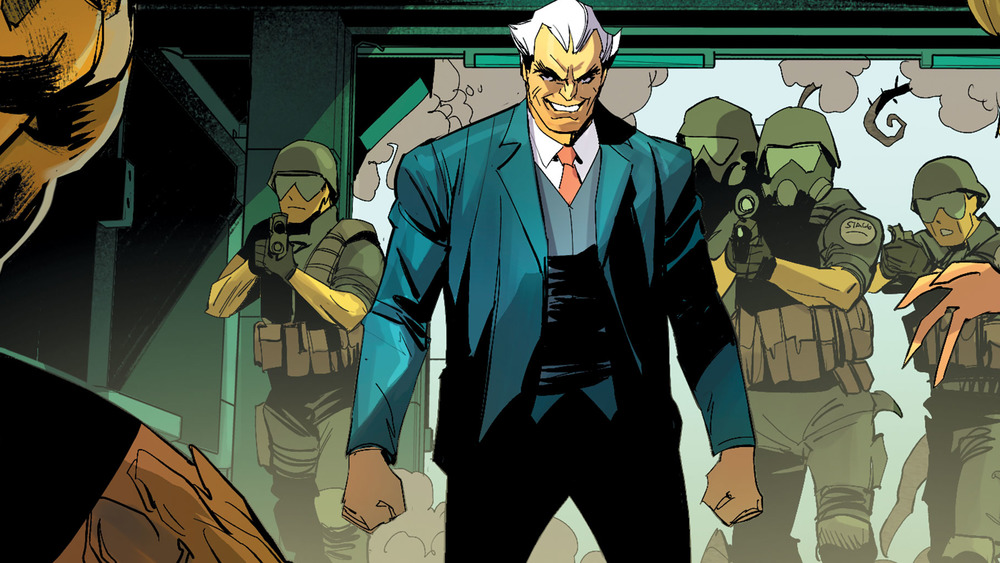 Wonder Woman 1984 dug deep into the DC Comics canon for Simon Stagg. The character is definitely a lesser-known one, with no direct ties to Wonder Woman or any of her allies. In the comics, Simon is typically seen as a villain against some lesser-known heroes like Metamorpho. But he's been known to crop up whenever shady business dealings are abound.
In the movie, he's an investor who threatens to turn Maxwell Lord in for his dodgy business practices. That is if Lord doesn't pay him back. Big mistake as when Lord becomes the Dreamstone, he gets Stagg arrested and takes all his money instead.
The Golden Eagle Armour
When Diana dons that Golden Eagle Armour for the final battle with Cheetah and Maxwell Lord is wolf whistle perfection. The Golden Eagle Armor first appeared in Elseworlds: Kingdom Come, a four-part comic miniseries from Alex Ross. The series is set in a dark alternate future where Wonder Woman comes out of retirement by donning this suit made specifically for war.
In the comics, Wonder Woman is gifted this ceremonial battle armour by Pallas a fellow Amazon. However, the movie changes its origins to be the armour of Asteria, one of the greatest Amazon warriors. Who sacrificed herself to let her fellow Amazons flee to the safety of Themyscira. Diana came across the armour through her work and kept it as a reminder of her home. That is until she needed to use it herself.
Wonder Woman 1984 Post-Credit Scene
Why was the armour changed to reference Asteria? Well, maybe this is the reason. In the Wonder Woman 1984 post-credits scene we meet Asteria one of the greatest Amazon warriors. Who I guess isn't as deceased as we thought she was.
But look at little closer and you'll see that the role is played by Lynda Carter! The original actress of the Wonder Woman TV series who played Diana Prince in 1975.
Tagged:
2020
25 december 2020
amazon
Antiope
barbara minerva
black adam
cheetah
chris pine kristen wiig
christmas
christmas 2020
comic book
dc
dc comics
diana prince
easter egg
easter eggs
Etta Candy
gal gadot
invisible jet
justice league
lynda carter
maxwell lord
patty jenkins
pedro pascal
steve trevor
themyscira
wonder woman
wonder woman 1984