Genshin Impact – Everything Coming To Version 1.2
Genshin Impact has been the biggest gaming surprise of 2020.
The Chinese-developed anime role-playing action game recently bagged the "iPhone Game of the Year" from Apple and the "Best Game of the Year" award from Google Play. It's also expected to bag even more awards as the year comes to a close.
With that said, it's only natural for the developers, miHoYo, to have a lot more things planned for Genshin Impact.
The next update, version 1.2, is reportedly set to come out on December 23rd 2020, bringing with it a new snowy region, new characters to unlock as well as some quality of life improvements.
Genshin Impact Version 1.1 Recap
Update 1.1, also referred to as "A New Star Approached" was the first-ever major update for Genshin Impact since it was first released on September 28, 2020. You can check out all the things that came to Version 1.1 in our everything update here.
The free-to-play open-world title saw the addition of four new characters to the game. Including Tartaglia Childe, Zhongli Vago Mundo (five stars), Blazing Rift Xinyan and Diona Katzlein Cocktail (four stars).
Also patched along was the first-ever seasonal event for Genshin Impact, Unreconciled Stars.
What Should We Expect From Version 1.2?
As already mentioned, Version 1.2 for Genshin Impact is expected to arrive on December 23.
Of the three patches already unveiled for Genshin Impact, Version 1.2 seems to be the largest. This is because it's the only patch specifically outlined to come with a new area – Dragonspine.
Will Version 1.2 come with an event?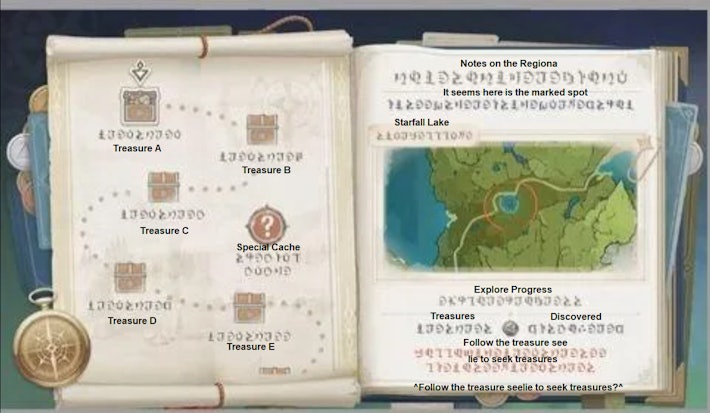 miHoYo has mentioned before that each region will combine its unique cultural and calendarial features with dates in the real world to make each event feel more unique. For example, Ludi Harpastum and Windbloom Festival will take place in Mondstadt, and the Lantern Rite and Moonchase Festival will be held in Liyue. Seeing how Dragonspine will be released in December, and it's so filled with Snow, could this be where a Christmas event will be held?
Reddit user Z-Drive has been datamining and evidence shows that the upcoming event could be a treasure hunting one. Where you follow a chain of treasures that will eventually lead you to a special treasure cache. This may or may not be a permenant event or it could be an end of year winter special.
That's not something that we can say for sure just yet.
What is Dragonspine?
So far, Genshin Impact has two nations that players can explore, which includes the Europe-inspired "Mondstadt" and the China-inspired "Liyue". This is still five nations short from the seven already confirmed that's to be eventually added to Genshin Impact, with each region representing a particular element out of the seven available in the game.
With that said, Dragonspine is not a new region. Instead, it's a place located in between Mondstadt and Liyue. Located right below Dawn Winery, Dragonspine is a rocky terrain that is filled with ice and snow. There are 12 waypoints, and one of them is a Statue of the Seven, which might be for Mondstadt.
The Dragonspine region storyline could offer more insights into the background of the Abyss Order. As in the region spawns a new red crystal ore. This ore is the same type of crystal that was used to corrupt, Dvalin, aka Stormterror. We might learn of the crystal's origins and how it's being used to manipulate other creatures here.
As for the actual look of the place, eagle-eyed players noticed the mention of "snowy peaks". The place has also been visited by other players via glitch, and it seems that players are going to get a new snow-themed area to visit and explore with the latest update. However, it is currently unknown if this will coincide with a Christmas event but that is highly possible as it will be dropping around Christmas time.
New Enemies and Materials
As we mentioned earlier Dragonspine's map area will feature a new magical crystal. This red-coloured ore might be a new type of ore that can be crafted into new items. We also see a new red-coloured Seelie, which might give players even more chests to farm and explore. Not only that, this new Seelie might unlock new achievements for the Dragonspine area.
In the image above, we also see new monsters – a new Mitachurl and a new Ruin Guard. The Mitachurl seems to be an ice-type Mitachurl that carries around an ice shield (nothing a little fire can't beat, right?). As for the new ruin guard, he seems to be covered in geo rocks. So better get that Claymore out and get smashing.
We don't know much yet about a new world boss but it is reported that there is one and it could be of the Dendro element.
Tagged:
abyss order
adventure rank
albedo
android
anime
apple
best game of th year
christmas
co-op
cooperative
cross platform
cross play
december
december 2020
december 23
dps
dragonspine
element
elemental
elemental burst
elemental skill
elements
fantasy
gacha
gacha banner
gacha system
ganyu
genshin impact
geo
google play
hu tao
ios
iphone game of th year
lantern rite
liyue
manga
microsoft windows
miHoYo
mondstadt
multiplayer
ninguang
online multiplayer
open world
pc
pc game
PlayStation 4
primogems
psn network
roadmap
role playing game
rosario
rpg
Sucrose
teyvat
v1.1
v1.2
version 1.1
version 1.2
wishes