Animal Crossing: New Horizons – Toy Day Event Guide
Animal Crossing: New Horizons is celebrating Christmas with the Toy Day event guide happening on December 24th! This gift-giving holiday comes with Animal Crossing's previous Winter update (full details here). And it will include exclusive rewards and recipes that will make your island shine with seasonal cheer!
Toy Day starts December 24th, 2020 at 5 AM and runs for a full 24 hours until 5 AM the next day on December 25th. So for some of you reading this guide your event is already live! And for others, this is a good read in preparation for the upcoming event. Note that this date and time is the same regardless of whether your island is in the Northern or Southern Hemisphere. For new players, you'll need an upgraded Resident Services with Isabelle to be unlocked to fully experience the entire event.
So keep on reading to find out everything you can get and what you'll need to do on Animal Crossing: New Horizons' Toy Day event.
Meet Jingle On Toy Day!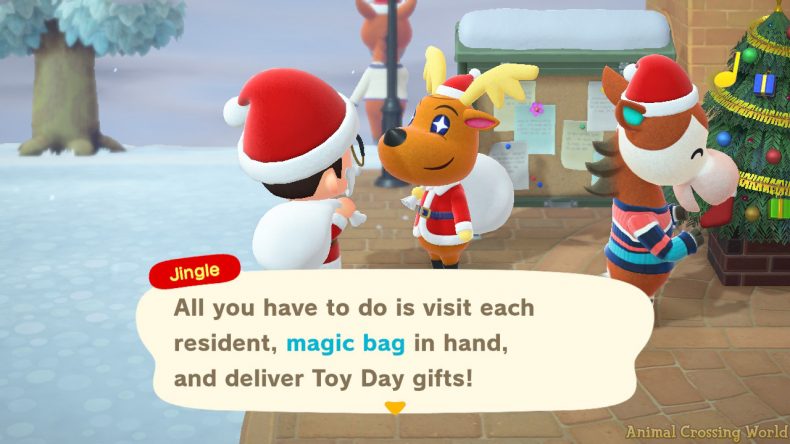 Toy Day kicks off with a visit from Jingle the black-nosed reindeer to your island. Find him hanging out at the plaza and he'll tell you all about his job helping Santa deliver presents on the island. Surprise, surprise he's enlisting you to help him do that.
The first thing you'll need to do as part of Santa's helpers is to make three pieces of Festive Wrapping Paper. A recipe that Jingle will teach you, requiring one red, blue and gold ornament.
If you don't have any Christmas ornaments on hand already make sure to head over to one of your island's decorated Christmas pine trees. Simply shake them and ornaments will start to fall around them.
Deliver Presents To Your Villagers
Once you've given Jingle 3 of the Festive Wrapping Paper needed, he will give you the exclusive Toy Day Stockings furniture and the special Magic Bag item containing presents for all of your villagers.
Inside of the Magic Bag, you'll find enough presents for each of your island's residents. Deliver the presents by equipping the Magic Bag and talk to a villager to hand them their present! It's that easy!
You can check inside the bag to find out how many gifts are left. If there are less than three villagers that need presents, the bag will tell you who the villagers are. This is very helpful if you lose track of who has a gift or not!
Deliver gifts to all your island residents to earn you the Gift Pile DIY Recipe and the Toy Day Sleigh.
Give More Gifts To Your Villagers!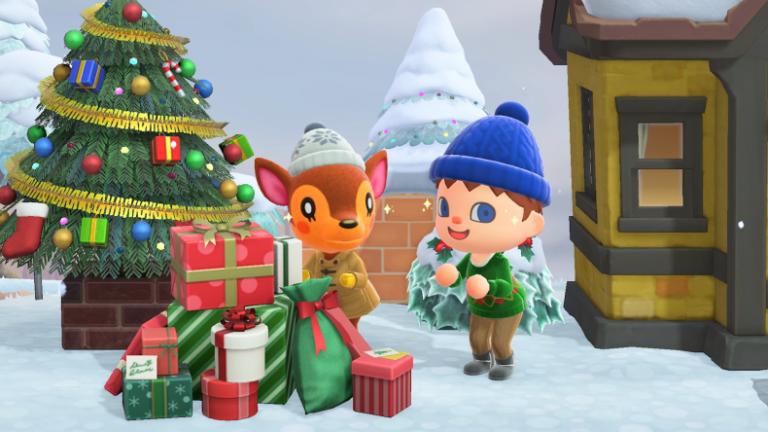 Once the Magic Bag is empty, you can exchange your own wrapped Toy Day gift with your villagers. Pick out what gift to give each of your villagers, just like you would on a normal day. But just remember to wrap it!
Exchanging wrapped gifts will net you items from the holiday toy set that's been on sale at Nook's Cranny this month. This will include colour variations that may not have been available in Nook's Cranny during the first weeks of December.
Toy Day Item Rewards
In addition to giving your villagers presents from Santa there are also rewards for you to earn as well! Toy Day features 5 different item rewards this year.
Festive Wrapping Paper
Just speaking to Jingle, in the beginning, will gift you with the DIY for the Festive Wrapping Paper.
Toy Day Stockings
After crafting enough paper and giving it to him, Jingle will share the Toy Day Stockings furniture item with you.
Gift Pile DIY Recipe
If you delivered gifts from Santa to more than half of the residents of your island, you'll get the Gift Pile DIY recipe. It requires 3 red wrapping paper, 1 wooden-block toy and1 cardboard box to craft.
Toy Day Sleigh
If you delivered gifts to every villager on your island, you will receive the Toy Day Sleigh furniture.
Jingle's Photo
Finally, you can get Jingle's Photo by hanging up the Toy Day Stockings on the wall in your house. Then on the next day, December 25th, interact with the stockings on your wall to find Jingle's Photo waiting for you inside!
You can only find Jingle's Photo inside of the Toy Day Stockings on December 25th and not on later days. So don't forget to do this!
We hope you found this guide useful and for more information and other guides on Animal Crossing: New Horizons check out our other articles here.
Tagged:
2020
animal crossing
animal crossing new horizons
DIY recipe
event
festive wrapping paper
jingle
magic bag
new horizons
nintendo
nintendo switch
switch game
tom nook
toy day
toy day event
winter