If you're on this page then it's likely you're a gamer or you're trying to buy something for that special gamer geek in your life. Either way, we have you covered. From the latest games, collectables and just general memorabilia we have some excellent stocking stuffers and presents that will make any gamer weep with joy. As for myself I'm pretty tempted to just get these for me.
Because most of us aren't flush with cash we're avoiding the obvious and obviously expensive ideas. Like the PlayStation 5, a Nintendo Switch or all the latest AAA games. I mean it would be nice but for real though this year be on budget.
Apple Arcade Subscription ($4.99/month)
Unlimited access to a wide variety of games, there are over a hundred to choose from for the low low price of USD 4.99 a month. Spanning multiple genres from puzzle and adventure games, sports, racing and even multiplayer action games. It doesn't matter what kind of gamer your friend or loved one is, Apple Arcade is the gift that will keep on giving all year long. Better than any free to play game (besides maybe Genshin Impact), Apple Arcade offers exclusive games for a high-end streamlined gaming experience. The best thing is that it's ad free.
Playable on apple devies and accessible for up to six family members. You may even convince your friend to "share" their games with you.
Microsoft Xbox Game Pass ($9.99/month)
Is your friend more of a PC or console gamer rather than a mobile player? Then the Microsoft Xbox Game Pass also offers a great deal of gaming content for a sweet low price. For the rest of the year, you'll have access to over 100 high-quality games with new games being added all the time, including those coveted Day One releases. Is your friend a big Master Cheif fan? Halo Infinite launches in 2021 and they'll be able to play it at launch with the Microsoft Xbox Game Pass. There's a huge variety of games from every genre with games being added all the time. There's always something new to play with the Xbox Game Pass, so don't wonder why your friend has stopped returning your calls.
If you're feeling especially generous the Xbox Game Pass Ultimate is available that allows you to play Xbox Games on your console, PC as well as your mobile device. This is going for $14.99/month and also includes an EA Play Membership that will allow them to enjoy EA's game library as well.
Sony PlayStation Plus 12-Month Membership ($5/month)
Then if your friend is neither an Xbox, mobile or PC player and belongs exclusively to the Sony PlayStation club then you can't go wrong with getting him or her a PlayStation Plus Membership. The PS Plus membership give your friend or loved one, two new games to expand their collection with every month. Never forget a birthday or anniversary because technically you're giving them something new each month of the year! The games are fantastic and well worth the price considering one PlayStation game can cost about $60, to begin with.
Having a PS Plus membership will also give them online multiplayer so they can play with you their best buddy. As well as give them access to exclusive member discounts. Which they'll be using to hopefully buy you more games yay.
Blade Hawks BX04 RGB Extended Gaming Mousepad ($16.59)
When it comes to mousepads the bigger the better and if it has a little RGB going to light up their life than so much the better. Blade Hawks RGB Gaming Mouse Pad is LED lit with a dense anti-slip rubber base measuring a nice 31.5 x 12 inches. A generous fit for most desktop spaces it's suitable for all keyboards and mousepads. My favourite part is the soft, ultra-smooth, waterproof surface that features a high-quality micro-texture and let's face it we've all spilt something around our electronics at one time.
Simply plug and play this gaming mouse pad. With up to 10 lighting modes: 7 static and 3 dynamic.
Logitech K400 Plus Wireless Touch Keyboard ($39.99)
A wireless plug and play keyboard with an integrated touchpad is the next word in seamless PC to TV play. Just plug in the USB Unifying receiver and you're good to go. Complete with media controls plus all the familiar hotkeys the K400 makes navigation easier. No need to connect that keyboard and mouse separately or fiddle around with a smart remote. Literally a nightmare. Play couch co-op games or have an online Jackbox party game with your friends. Best of all no lag up to 10 meters (33 ft).
Orzly Accessories Bundle for Switch Geek Pack ($69.99)
If your friend has a Nintendo Switch, or you know that they're getting one this holiday season then the Orzly Geek Pack for the Nintendo Switch is the ultimate partner in crime. This amazing bundle is well worth the price and comes with everything you could possibly want for your Switch.
The pack includes all the essential basic Nintendo Switch accessories such as a protective carry case, 2 tempered glass screen protectors. As well as other premium Switch accessories including the Switch Racing Wheels [X2], Switch Joycon Grips [X2], Joycon & Pro-controller Charge Station, Switch Comfort Grip Case, Playstand, Cartridge Case, Earphones, USB Cable and Stylus. Truly the ultimate accessories bundle to maximise your handheld console. Available in Jet-Black or in a ColourPop version.
Funko Pop Collectables ($11 – $15)
I both love and hate Funko Pop collectables. They're literally the Beanie Babies of my adulthood. At some point I want them all, then I have to stop myself because where am I going to put them?? Then I stop looking and have to actively force myself to not buy anymore Funko Pop. Inevitably though they'll release a new collection and the obsession will start again. Funko Pop Collectables espouse a variety of fandoms so there'll definitely be something you can get that'll resonate with your friend. Are they into a fan of the Star Wars series? the Marvel or DC universe? You'll be able to find characters for them all.
Funko Pop even has a whole category just for games where you can find references from Halo, Pokémon, Spyro and even the latest Cyberpunk 2077.
Nintendo Amiibo ($15.99)
Collectables that actually do something! Kinda. Nintendo Amiibos are little figurines that can unlock certain things in the game on the Nintendo Switch. Like Funko Pops, amiibos comes in a ton of characters from different games. One amiibo may work with multiple games and depending on the game you'll be able to unlock new outfits, power-ups or other fun bonuses. Just tap to connect your cute little figure and find out what awaits. Amiibos come in high-quality character figurines as well as little portable cards. Just putting it out there that I'd like Wolf Link for Breath of the Wild, please.
Amiibo prices can range from the cheaper $10 range to the pricer $20 figures, but they'll normally average about $15. Keep an eye out for amiibo sales at your local Target, Walmart or Best Buy.
Colorware Nintendo Joy Con Skins ($10)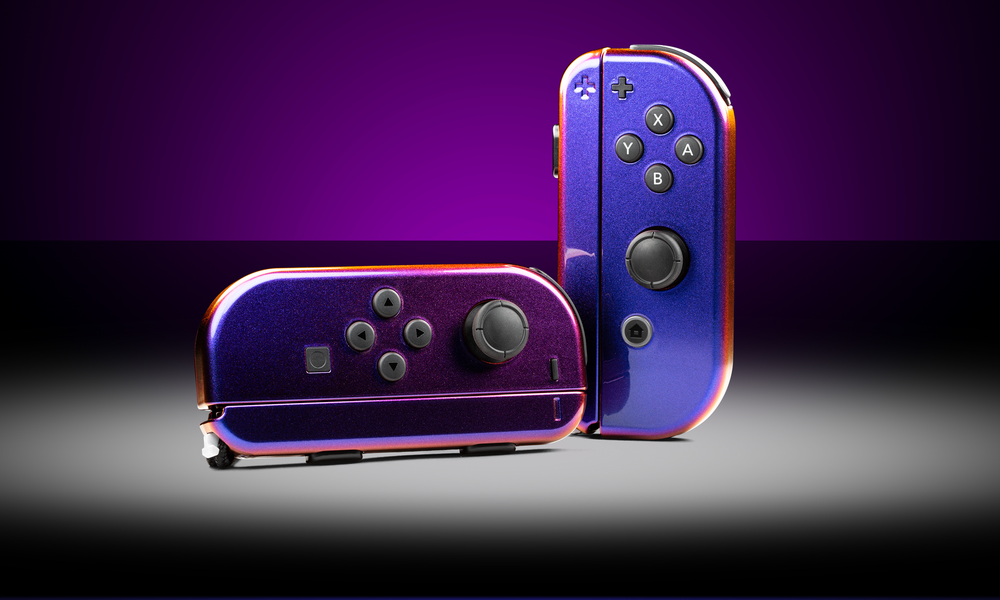 Colorware gives you amazing inexpensive options for reskinning your Nintendo Switch. Didn't get that limited edition colour set? Worried that you'll misplace yours when you bring it over to your friend's house? Or you just want a specific colour or texture? Colorware can do it all for an amazing price. My favourite version of this is to change the texture, either to go super vibrant or matte. Who am I kidding, I'm going to go gold glitter all the way.
Colorware offers skins and custom paint jobs as well for a little bit of a higher price bracket. If you want to get your entire Nintendo Switch skin or just the dock or controller you can find it there too.
Vinyl Records Of Videogame Soundtracks ($25 – $45)
Nothing quite gets that hipster gamer aesthetic like a classic video game vinyl hanging on the wall. The people at Mondo sell extremely affordable vinyl collectables with incredible artwork to go along with it. Right now in their collection, they have some of the latest video game soundtracks from The Last of Us Part II, Death Stranding and Marvel's Spider-Man: Miles Morales. As well as a number of classic tracks from Castlevania, Shenmue II and Contra. I don't actually have a record player but I'd love to have this up on my wall.
Tagged:
2020
amiibo
apple arcade
blade hawks
budget
christmas
collectables
colorware
december
december 2020
funko pop
funko pop collectables
game pass
game subscription
gift giving
gift guide
holiday
joy con skins
k400 wireless keyboard
logitech
lp
microsoft
music
nintendo amiibo
nintendo joy con
nintendo skins
nintendo switch
nintendo switch bundle
orzly accessories bundle
pc
playstation plus
rgb gaming mousepad
sony
sony playstation plus
soundtrack
subscription
switch geek pack
vinyl record
wireless touch keyboard
xbox
xbox game pass