Phase 3: Star of Destiny [November 23rd – 30th]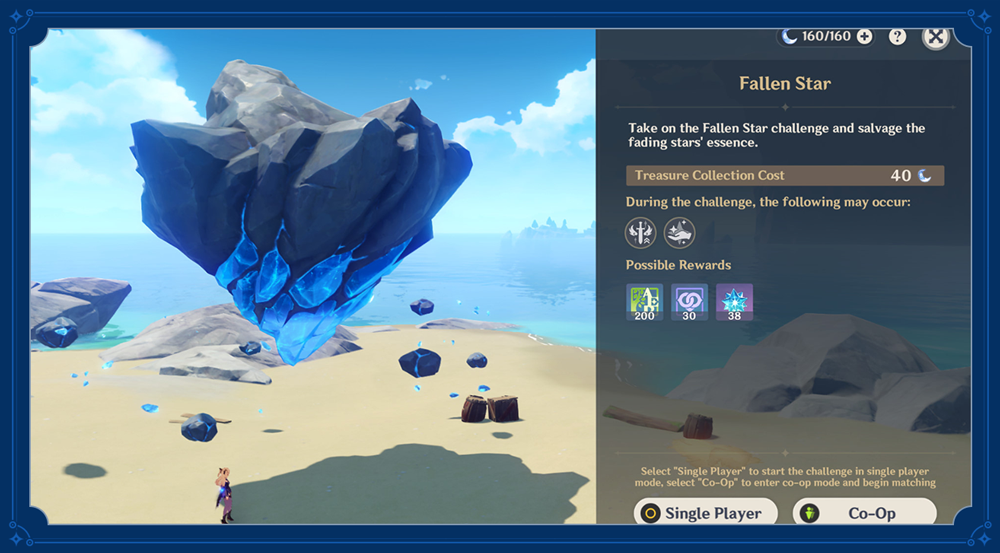 What the Skies Conceal, the Water Reveals begins on the 23rd of November and you'll need to complete it to unlock the event's third phase, Star of Destiny. Now the Fallen Star has become a mini-boss for you to salvage Fading Star's Essence. You may choose to enter this challenge in either Single Player or Co-Op Mode.
Like some of the mini-bosses, it's not going to be a direct shoot to kill battle. When you face off against Fallen Star, one of the following astral anomalies will occur at random: Orbital Shift, Dark Omen, or Inauspicious Star. The goal of the challenge is to fill up the progress bar with Celestial Energy, which is obtained by defeating the enemies that appear, in a set amount of time. Press the T key or tap the submit icon within the celestial energy submission zone to submit accumulated celestial energy.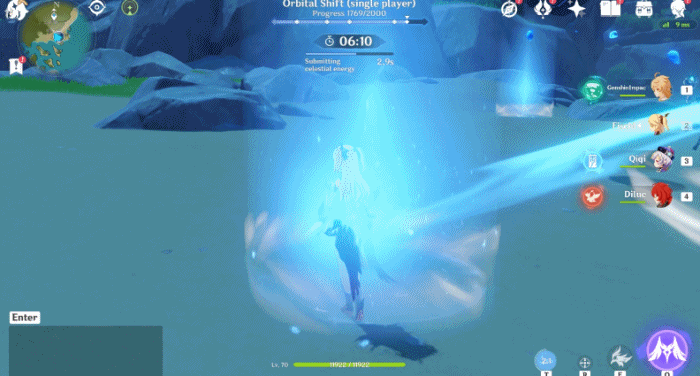 There is a limit to the amount of celestial energy that can be carried, so be sure to promptly submit your energy. If you are hit while submitting energy, the submission process is interrupted and you will lose the energy in your possession.
After completing the Fallen Star challenge, you may choose to spend 40 Original Resin to obtain Fading Star's Essence and other rewards. The corresponding rewards will vary depending on your World Level. Fading Star's Essence can be exchanged in the Event Shop for Talent Level-Up Materials and Weapon Enhancement Materials.
Unreconciled Stars Event Reward
The 4-star character Fischl is available as a reward for completing the Unreconciled Stars event. Fischl is an excellent addition to most teams, and if you haven't gotten her already now is a prime opportunity to obtain her.
Meteoric Wave World Quests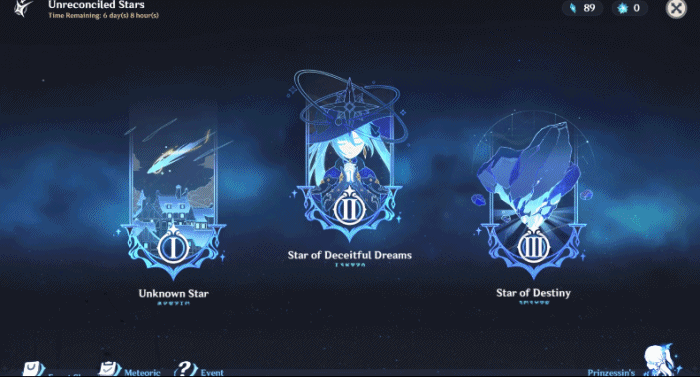 Three 'Meteoric Wave' World Quests will unlock with each unlocked event phase of Unreconciled Stars. Unlike daily commissions, these sidequests take a bit longer (although not as time-consuming as main quests/arcs). At the end of each sidequest, you'll be rewarded. 20 event currency, 40 primogems, and 25,000 mora.
Event Perks
During the Unreconciled Stars event, some characters have gained +60% damage boost while doing even-related activities. These characters are – Childe/Tartaglia, Mona, Fischl, Lisa, Beidou, Ningguang, Noelle, Chongyun, and Xiangling.
Unreconciled Stars comes just a few days after the launch of Genshin Impact's first large update – Version 1.1. That came with a bunch of quality of life upgrades, new characters and new items. To get the full details of the update be sure to check out our 'Everything coming to Version 1.1' article. Or if you're interested in more Genshin Impact guides you can click over here for more!