Animal Crossing: New Horizons – Turkey Day Event Guide
Turkey Day is happening this coming Thursday as part of Animal Crossing: New Horizon's big Winter update! If you don't know what that's about, be sure to check out our article with all the details here. As part of Turkey Day Franklin, the Turkey Chef will be coming to your island to prepare different dishes for him and your villages. Probably hoping if he keeps everyone well fed he'll avoid going in the oven himself!
Now Animal Crossing: New Horizons has put some restrictions on time travelling. So if you're looking to experience this day before the actual real one comes around then you'll be disappointed. BUT through the magic of datamining we're still able to learn everything about Turkey Day beforehand. For those of you who want Turkey Day to remain a surprise feel free to skip out of here and look through our past ACNH guides. But for those of you who want to prepare all the ingredients beforehand, you can keep on reading!
Preparing For Turkey Day
During the Turkey Day event, Franklin will ask you for help with cooking four different dishes for him and your villagers. To this, you'll need to give him a number of required ingredients provided to you by him for each recipe. As well as a secret bonus ingredient at the end that you can add later after creating a dish to get a bonus reward.
If you don't have the time to go fishing and diving on the day and want to be as prepared as possible for the event. You should start by gathering up and obtaining all of the following ingredients that you'll need on Turkey Day! If however you still haven't found all the ingredients by then don't worry because on the day your island residents will be able to help you out!
Trade Ingredients With Villagers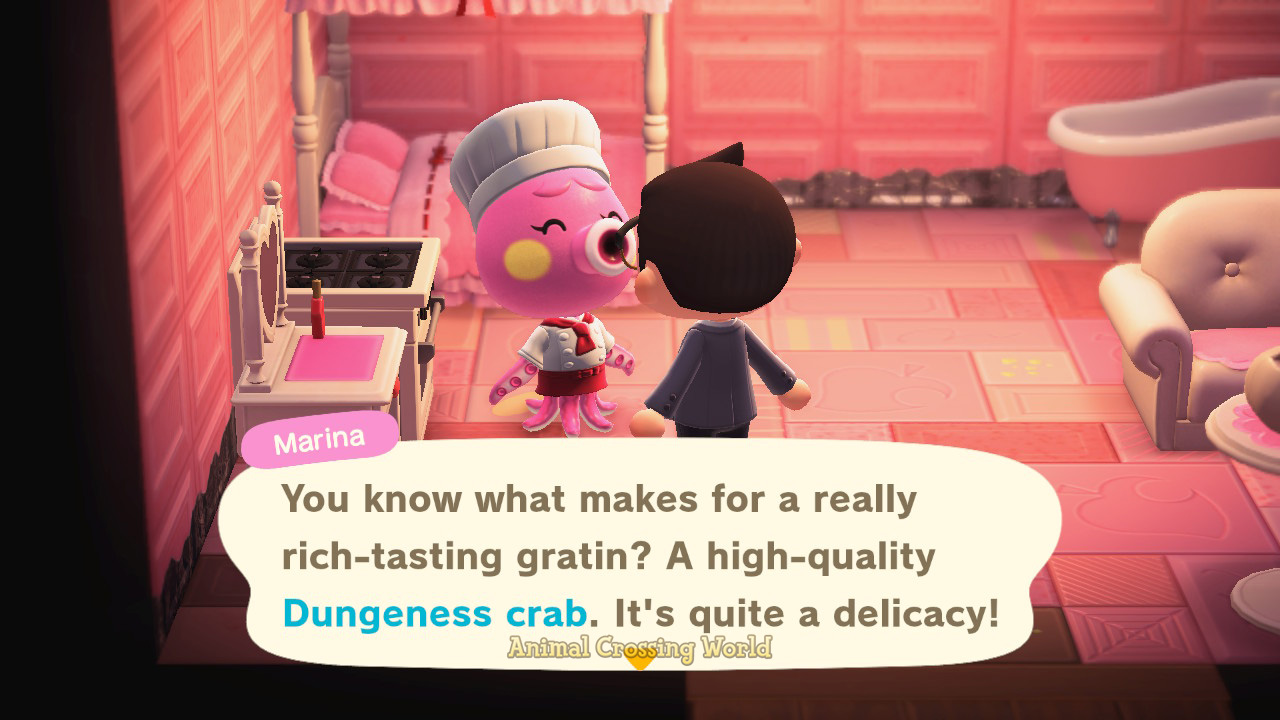 If you don't have time or luck gathering ingredients beforehand such as any pumpkins or finding any scallops. You can still get everything required by trading fish to villagers in their homes. Just check all of your villager houses until you find someone cooking at a temporarily added kitchen. They'll ask you for a particular fish, or smell one out of your pockets. Give them the requested fish and they'll help you out by giving you a possible ingredient! It's usually one related to the current recipe you're working on, but not always.
In addition to trading ingredients, your villagers are a great source of information. Often giving you hints for the secret ingredient for one of the recipes you need to cook.
Recipe #1: Clam Chowder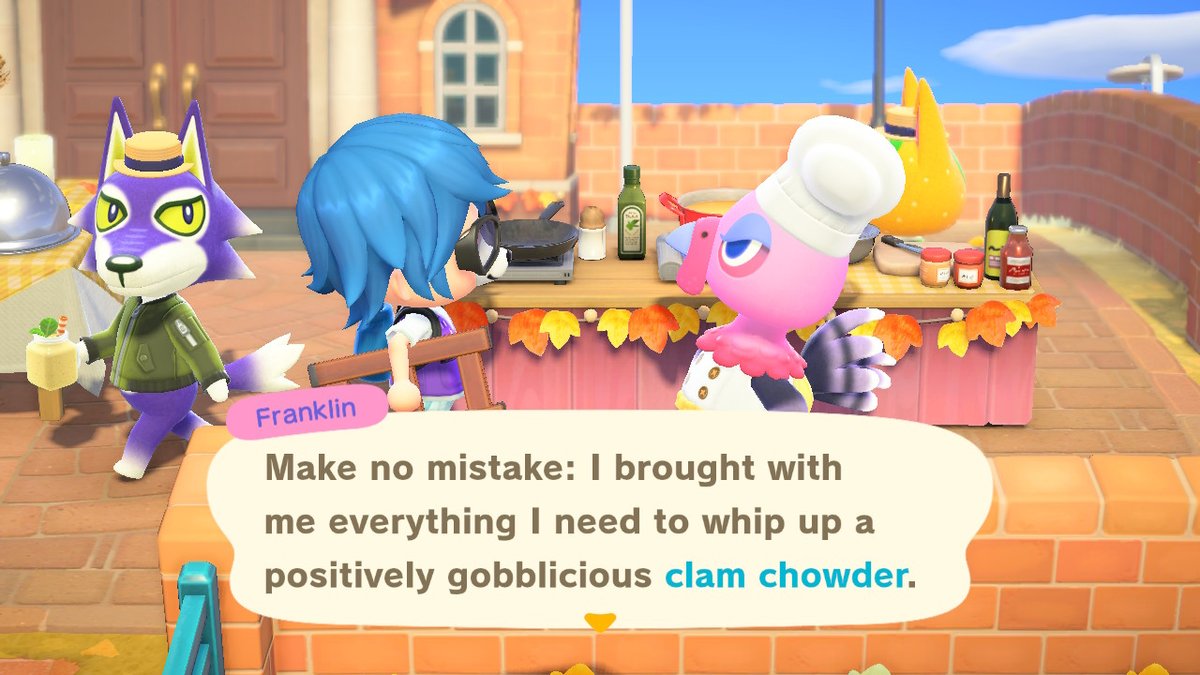 For this one you'll need 3 Manila Clams that you can get by digging up the squirting spots on your island's beaches. They're normally used to make fish bait.
The secret ingredient for the Clam Chowder Recipe is a Scallop which can be found while diving for sea creatures in the ocean. Make sure to save one instead of just giving them to Pascal!
Recipe #2: Pumpkin Pie
Finally another use for all the pumpkins you've been growing last Fall. The Pumpkin Pie will require 1 Orange Pumpkin and 1 Random (Yellow, Green White) Pumpkin. If you have absolutely now Pumpkins you should start growing them today by purchasing Pumpkin Starts from Lief.
The secret ingredient to this Pumpkin Pie? More Pumpkins! You'll need to add the other two coloured Pumpkins that were not requested earlier. Such as if he requested a green pumpkin you should give him a white and a yellow pumpkin for the secret ingredient.
Tagged:
2020
acnh
animal crossing
animal crossing new horizons
clam chowder
Cornucopia
datamine
fish muniere
franklin
gratin
ingredients
island
manila clams
mushrooms
new horizons
ninji
nintendo
nintendo switch
northern hemisphere
november 2020
pumpkin pie
scallop
southern hemisphere
thanksgiving
turkey chef
turkey day
Turkey Day Flooring
Turkey Day Rug
Turkey Day Wall
villagers
winter 2020
winter update