The Last Of Us Part 2 – 11 Easter Eggs You Missed
The Last of Us Part II is one of the most anticipated games of 2020 and on our Top 10 Games Coming Out this June (check out the full list here). One of the best things about Naughty Dog is their attention to detail, most notably in their Easter Eggs. I love Easter Eggs, it's such a delight finding a small piece of reference to previous games and other pop culture. With all the murderous survivors and clickers chasing you it's easy to miss all the little eggs and references scattered throughout the game. So we've compiled our favourite list of Easter Eggs that you probably missed while running for your life. Watch out for light spoilers below.
– – – MILD SPOILER WARNING – – –
Nothing After 2013
The Cordyceps Brain Infection brought civilization to an end on September 26th, 2013. Which is why in The Last of Us you won't find anything made after that date. This includes gadgets, consoles and even calendars. Throughout the game, you'll find remnants of all the items forever trapped in time. Why didn't they just take this down?
The Toy Robot
In the first game, you meet Sam and his older brother Henry, fellow survivors living through the pandemic. In Pittsburgh, Sam was about to take a toy robot but his brother stopped him. Forcing him to take only what they needed. So Ellie took the toy for Sam instead. Unfortunately, by the time she gave it to him, Sam was already infected and didn't seem too interested in the toy. Ellie meant to put it on his grave but forgot and it looks like she's kept it to this day.
The PlayStation 3 Games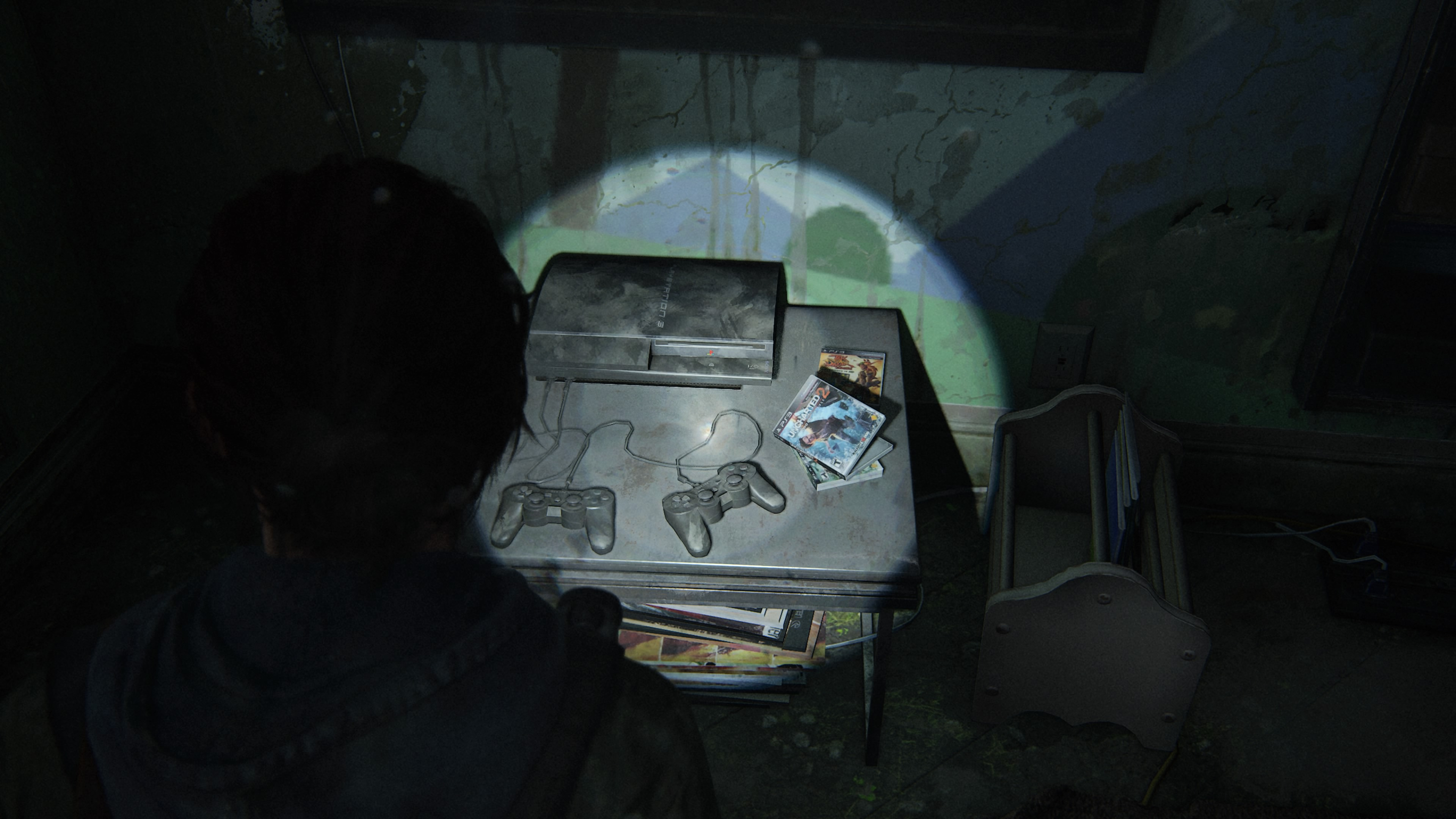 The PlayStation 4 was released back in November 2013, which means that in The Last of Us that console was never released. When you explore Ellie's room you'll find an original PlayStation 3 as well as a copy of Uncharted: Drake's Fortune and the Jak & Daxter Collection. You'll also be able to spot this reference again during the 'Patrol' chapter where you'll find a PS3 in Eugene's place. This time he has Uncharted, Uncharted 2 and the Jak & Daxter Trilogy. Okay, Naughty Dog I see what you did there. Good plug guys.
Eugene also possesses a tape of something called "Smash Brandi's Cooch", which is most likely porn but could also be a reference to Crash Bandicoot. It's probably both.
Dr. Uckmann Trading Card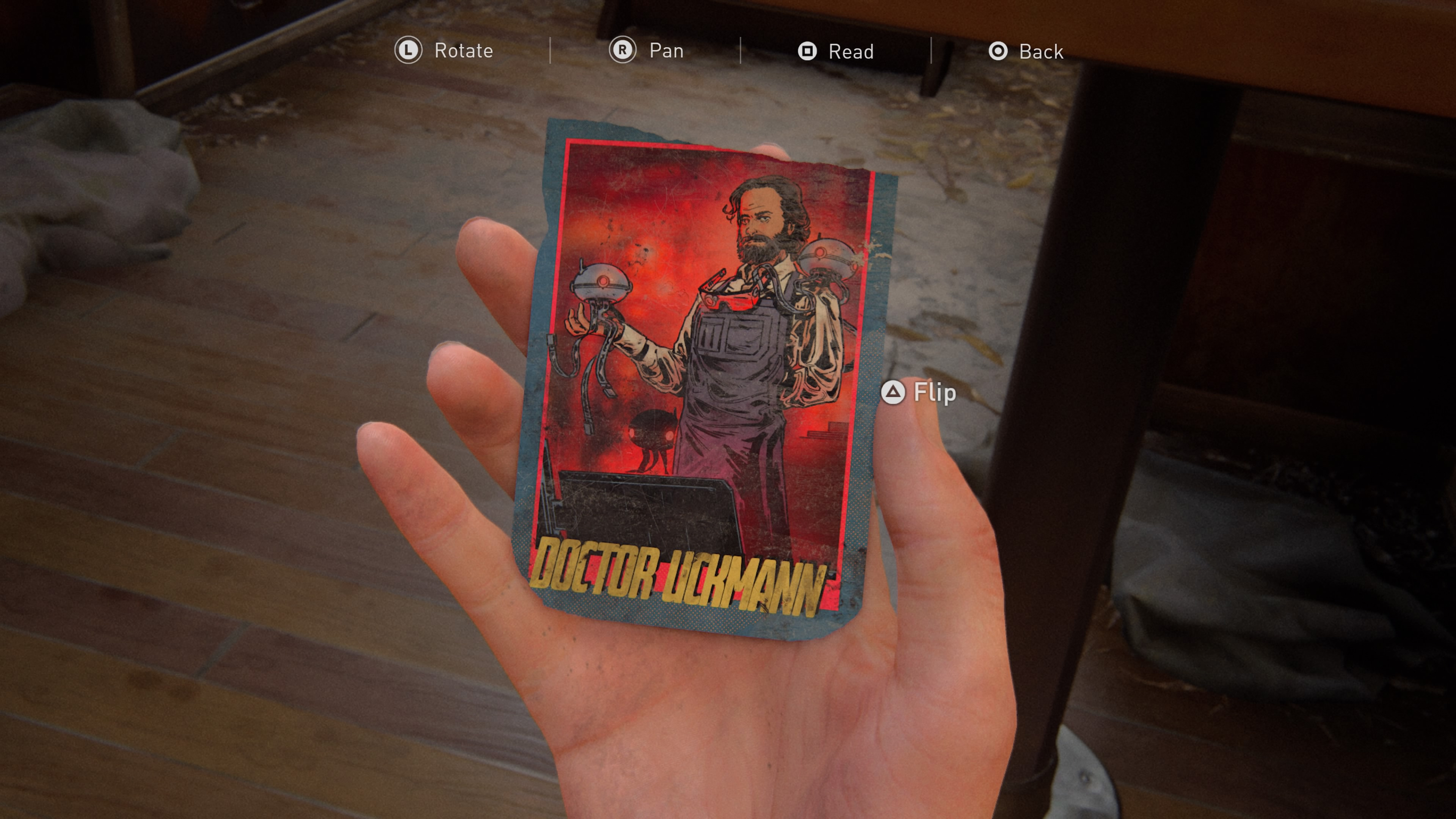 Naughty Dog's in-game reference to thier company is just getting started because next on this list is a trading card featuring Dr. Uckmann. Ellie loves collecting trading cards and it's her main collectible in The Last of Us 2. This card however, found in the 'Downtown' chapter is most definitely a shout out to Naughty Dog's vice President Neil Druckmann.
Left Behind References
This is a little hard to spot but next to the couch in Ellie's house is a shelf with some books. You'll need to really zoom in to see but on the top shelf but look close and you'll see the 'No Pun Intended: Volume Too' book. An artefact that can be found in The Last of Us: Left Behind. Riley gives this book to Ellie at the carousel and from that day on Ellie discovers a punstoppable love of punwerful punchlines. This punchant continues throughout the entirety of The Last of Us series. I'll stop now.
Other references from the Left Behind DLC come in the form of all the Halloween toys you encounter in both games. Most of the items from the statue, to the masks and the witch and such, are exact models from the previous DLC. Ellie doesn't get too hung up on the déjà vu but she does mention that she's "not a fan".
Tagged:
2013
artefact
crash bandicoot
dina
dlc
dr uckmann
ellie
giraffe
henry
hotline miami
jak and daxter
joel
jurassic park
left behind
lpotl
Naughty Dog
neil druckmann
outbreak day
playstation
playstation 3
PlayStation 4
precursor orb
ps vita
ps3
ps4
riley
sam
sony playstation
the last of us
the last of us 2
the last of us left behind
the last of us part 2
the last of us part ii
the last podcast on the left
tlou
tlou2
toy robot
uncharted
washington liberation front
wtf