Popuri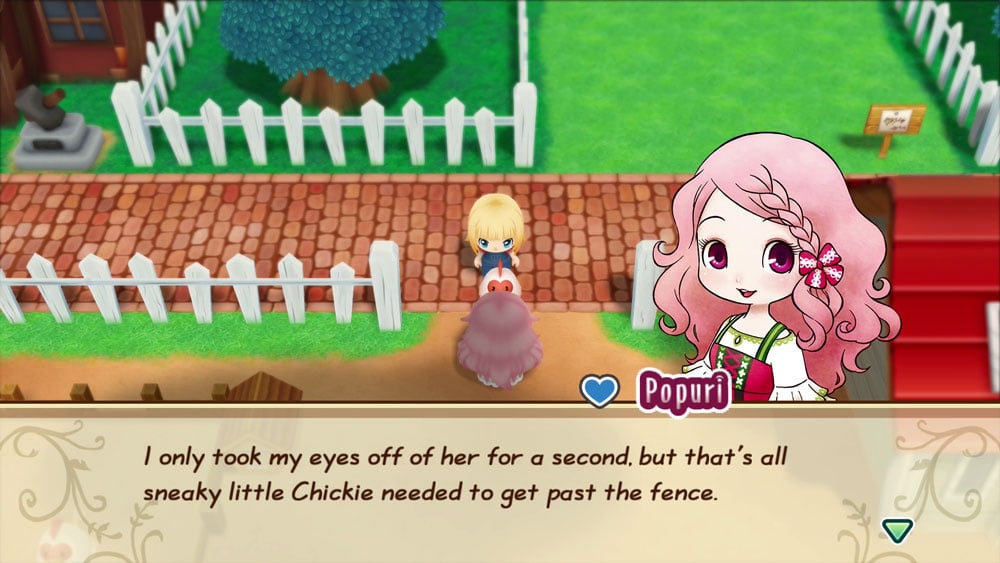 | | |
| --- | --- |
| Birthday | Summer 3 |
| Residence | PoPoultry |
| Family | Lillia (Mother), Rick (Brother), Rod (Father – Out of Town) |
| Favourite Gifts | Bibimbap, Fried Egg, Nasi Goreng, Omelet Rice/Omurice, Tamagoyaki |
| Rival | Kai |
The cutest, sweetest and maybe ditziest of the bunch, Popuri is a little pink-haired ball of sunshine. It comes as no surprise as the daughter of a poultry farm owner she loves all egg-related products. Seriously she's happy with just the eggs you get from your chicken. If you'd like to bring it up a notch you can try cooking the eggs into some recipes for her to eat.
Other things she loves are fruits and fruit-based products – Apple, Strawberry, Tangerine. Pineapple. Strawberry Milk, Strawberry Milk, Milk, I think you're getting the idea here. But in the end, just stick with eggs and the Pink Cat or Toy Flowers and you should be golden.
Ran
| | |
| --- | --- |
| Birthday | Summer 17 |
| Residence | Inn |
| Family | Dudley (Father) |
| Favourite Gifts | Baumkuchen, Cake, Cheese Fondue, Cheese Risotto, Matsutake Rice, Pancakes |
| Rival | Cliff |
The "tomboy" of the bunch she was originally called Ann in the previous Harvest Moon: Friends of Mineral Town. She's quite a chill chick who loves cooking. Most of the time you'll find her working at the Inn. Ran mostly likes cooked food and well any food in general. At the beginning on the game, unless you want to splurge on buying her chocolate you're better off just sticking with a Hot Spring Egg. Other items that are quite easy to gift her are eggs, wild grapes pineapple, milk and large fish. Not quite the girliest of girls she won't be into flowers like the other bachelorettes.
Karen
| | |
| --- | --- |
| Birthday | Fall 15 |
| Residence | General Store |
| Family | Jeff (Father), Sasha (Mother) |
| Favourite Gifts | French Fries, Margherita, Popcorn |
| Rival | Rick |
I married Karen back in the original Friends of Mineral Town. Now she's back with a new look but the same ole fun and feisty attitude. The easiest way to make Karen happy is to give her Bamboo Shoots, you can find them in the mountain and she loves them. The rest of her other loves tend to lead into more expensive territory such as Mont Blanc, Diamonds and such. She also seems to like Spicy Food, Chili Peppers. Butter, Cheese and the Pink Cat, Toy or Magic Red Flower.
Jennifer
| | |
| --- | --- |
| Birthday | Winter 2 |
| Residence | Jennifer's Tent (Day) / Inn (Night) |
| Favourite Gifts | Chestnut Rice, Mont Blanc, Roasted Chestnut |
| Rival | None |
A brand new bachelorette is in town in for this version of FoMT. Jennifer has very strong granola-yoga vibes. She's kinda fun if you're into that sort of free spirit thing. She lives in the mountains in a tent by the Lake Mine but can be seen wandering all over town. Jennifer is pretty much impressed with most vegetables, flowers and fur you can trim off your animals. I've just been buttering her up with flowers I find by the mountainside. You can also use this trip to drop a flower for the Harvest Goddess as well. But if you're really insistent on giving Jennifer other things she loves sweet stuff like chocolate goods as well as chestnuts.
Marie
| | |
| --- | --- |
| Birthday | Winter 20 |
| Residence | Basil's House |
| Family | Basil (Father), Anna (Mother) |
| Favourite Gifts | Relax Tea, Veggie Juice |
| Rival | Gray |
I gotta tell you I've never really tried dating Marie or even really befriending her in the previous games. She's the town's librarian and is the shy quiet sort. I like her new look in Story of Seasons and as it is my quest to romance everyone in town, it looks like I have to go all Joe on her. (It's a terrible You reference don't mind me). The easiest present to give to Marie is Bamboo Shoots, Wild Grapes and Black, Red, White or Blue Grass. They grow all over the mountainside and she loves them.