Pirate Gulliver Speedrun Time Travel Method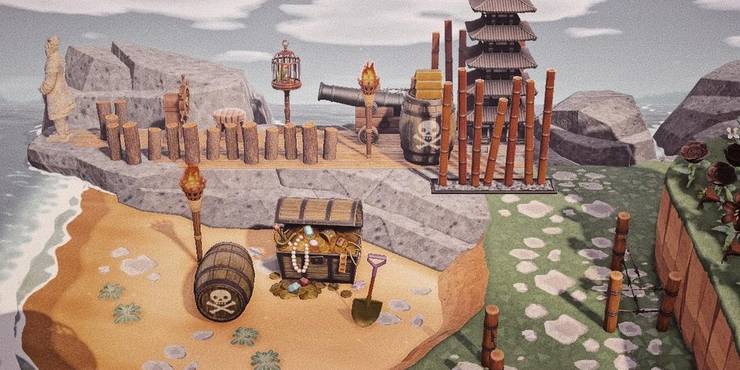 Now I'm not here to promote time travelling but it happens in Animal Crossing: New Horizons and sometimes you just can't wait. With Prate Gullivarrr only appearing once every one or two weeks it can take you more than half a year to obtain all of these items! So we're just leaving this guide for those that want to get all the pieces of the Pirate set in a couple of hours.
1. Time Travel Until You Find Pirate Gullivarrr
The first step is pretty obvious, but you'll need to time travel day by day checking your beaches until you find Pirate Gulliver once. To save you some time, pay attention to the title screen on each day as sometimes the camera will focus on a special visitor.
It won't always show Pirate Gulliver on screen but if you see anyone else like Saharah, Flick, regular Gulliver, or any of the merchants outside of Resident Services, then you can safely assume Pirate Gulliver isn't on your island and move on the next day.
2. Save Gullivarrr
Once you find a day that has Pirate Gulliver on your island, make a note of it somewhere. You're going to want to remember it. Then proceed to talk to him, find his Communicator in the ocean, and return it to him as usual.
3. Time Travel Backwards To 4:58am The Same Day
After you've helped out Pirate Gulliver, you'll want to save and exit. Close the game, and change your Nintendo Switch's date and time to just before 5AM on the same current day. You can pick exactly when, but we recommend around 4:58AM. Just make sure you have enough time to load up the game and sign in after changing the time before the clock hits 5AM.
4. Wait For The New Day To Begin
Once you're loaded into the game just before 5 AM, wait for the new day to begin at 5 AM sharp! You should find your prize from Pirate Gulliver in the mail and a new Rusted Part in your Recycle Box. But most importantly, you should be able to find Pirate Gullivarrr on your island and find his Communicator again for more Pirate items.
Keep in mind his location will likely change though, so look around your entire beach. If you repeat this process, you can complete Pirate Gulliver's quest as many times as you'd like!
Keep in mind that are limits to how many days Animal Crossing: New Horizons will keep in 'state' so to speak. We're not sure of the exact time, but if you time travel more than a few days out of the day in which you found Pirate Gulliver, you may lose that spot and have to find him again on another day all over again.
If you'd like to read more of our game guides for Animal Crossing: New Horizons click right here.