Animal Crossing: New Horizons – Mermaid Furniture Guide
Wave One of Animal Crossing: New Horizon's summer update is here! And with it comes swimming, diving and most importantly brand new furniture. For all the details check out our ACNH Summer Update article. This summer we've already got a bunch of shell furniture recipes to turn your beach into a seaside wonderland. But now it's time to kick it up a notch with Pascal's Mermaid furniture.
You're not going to be able to find these recipes shooting down balloons or hunting for bottles on the beach. Mermaid furniture recipes are exclusive to our wandering philosophical otter – Pascal. Let's go through all the steps you'll need to do to complete your collection.
Feed The Hungry Otter
Swimming and diving in Animal Crossing: New Horizons is part of the new summer update. Simply grab a wetsuit and your snorkel and dive in to fish out deep-sea creatures. The creatures look like shadows in the water so you never know what you're going to get! If you do however manage to fish up a Scallop you'll summon our red otter friend Pascal.
Pascal will trade you your fresh catch with a reward as well as some "pearls" of wisdom. Hahaha because you're a diver? Okay I'll stop. His rewards include the Mermaid furniture DIY recipes, Mermaid-themed clothes or a Pearl. You can only meet Pascal once a day so even if you fish up another Scallop he won't give you anything else.
Get The Pearls
Like most Animal Crossing missions expect getting all the Mermaid furniture to be a bit of a grind. As you can expect like the other shell furniture you'll need a variety of different shells to craft your new pieces. I'd storing everything now if I were you. Along with specific shells you'll also need Pearls in order to craft the Mermaid furniture. Pearls are rare items you can find while diving, similar to fishing up sea creatures.
Mermaid Furniture List
Here are all 14 of the Mermaid Furniture DIY crafting recipes to collect from Pascal.
Mermaid Chair
Mermaid Table
Mermaid Sofa
Mermaid Shelf
Mermaid Vanity
Mermaid Closet
Mermaid Lamp
Mermaid Wall Clock
Mermaid Screen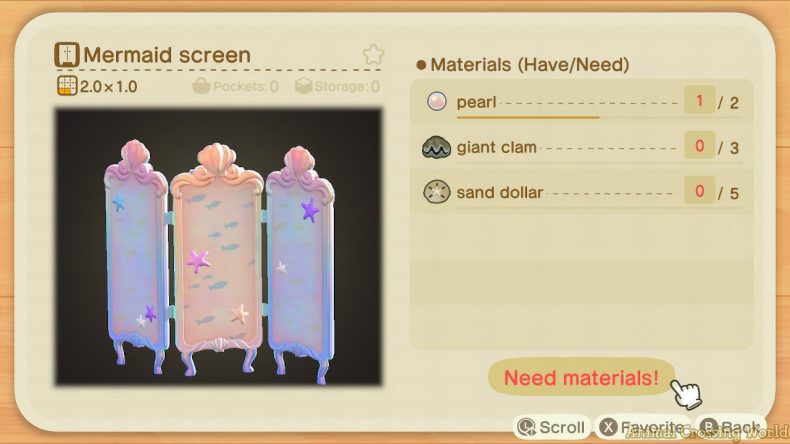 Mermaid Dresser
Mermaid Flooring
Mermaid Rug
Mermaid Bed – 2 Pearl, 2 Giant Clam, 5 Sand Dollar
Mermaid Wallpaper – 2 Pearl, 2 Sea Snail, 2 Sand Dollar, 2 Coral, 2 Giant Clam
Has Animal Crossing: New Horizons taken over your life? Us too. Stay up to date with all the latest news, updates and game guides for ACNH right here.
Tagged:
acnh
animal crossing
animal crossing event
animal crossing events
animal crossing furniture
animal crossing guide
animal crossing new horizons
diving
event
event items
furniture
game guide
july
july 2020
mermaid
mermaid furniture
mermaid themed
new horizons
nintendo
nintendo game
nintendo switch
pascal
pearl
scallop
summer
summer event
summer update
swimming
wave one
wetsuit