The dawn of the new decade is off to a good start at the annual CES 2020. For those of you out of the know, CES or The Consumer Electronics Show is where the latest and greatest in technology gets showcased. Now for gamers, there's more than just the new PS5 logo for you to be underwhelmed by. AMD announced a new graphics card, Razer introduced Nintendo Switch-like attachment, and Nvidia debuted 360Hz displays. There's also a bunch of new desktops, laptops and mobiles for you to fawn and oggle over. There's a lot to go through so let's just do a rundown of all the best tech specifically for gamers.
Dell Alienware Concept UFO
After the overwhelming success of the Nintendo Switch, it's no surprise that PCs are trying to get in on the action as well. Introducing Dell's new concept for PC gaming on the go with the Intel-powered Alienware Concept UFO. The portable Windows PC, looks pretty much like the Nintendo Switch, down to its button placements. It features a beefier 8-inch display, kickstand, detachable controllers, and support for external devices like displays or a keyboard and mouse. Word on the CES 2020 floor is that the gameplay is decent. It's still a concept device and we don't have a lot of specifics as of yet. But a more portable PC gaming experience that doesn't require a laptop might be just what many gamers need to enjoy their favourite titles on the go. I guess this is a cheaper alternative than me buying every Switch port for PC games I already own.
Samsung Odyssey G9 Monitor
It's not going to be CES 2020 unless somebody whips out a huge curved gaming monitor. Samsung's 49-inch Odyssey G9 monitor is pretty darn impressive to look at. It has an impressive ultra-wide QLED monitor with 1440p resolution, a 1 millisecond response time, and supports refresh rates up to 240Hz. You're going to have to put in a bit of work to find a rig that can push the latest PC games at 240Hz. But if you're a competitive e-sports player who specializes in older titles, this display could be a dream. Those not running with the big dogs at 240Hz can still take advantage of its sharp resolution and of course that immersive 1000R curvature. That pretty much envelops your whole field of vision.
Because it is catered for gamers the Odyssey G9 also supports AMD's FreeSync 2 and Nvidia's G-Sync. This will allow for smoother gameplay with less tearing or framerate loss. The G9 is likely to come with a very hefty price tag when it ships later this year. It's easy to quibble over whether it's worth the cost compared to other ultrawide or 1440p monitors on the market. In other Samsung related news the brand will be launching a line of Odyssey gaming laptops as well as PCs and VR devices on top of their gaming monitors.
AMD Ryzen Threadripper 3990X
AMD really pulled out all the stops for CES 2020. In fact, I could probably do a whole article on what they've got going on, let's just say they came to play. The new Threadripper is a beast of a processor, rocking a total of 64 physical cores with hyperthreading, allowing you to utilize 128 cores. That's crazy for a consumer-grade CPU and one that doesn't require an expensive setup to enjoy. The most powerful Threadripper we've seen to-date is a 32-core CPU. Meaning that AMD managed to double the number of physical cores with the latest architecture advancement. This is enhanced performance compared to the USD$20,000 dual Intel Xeon Platinum 8280 setup. What.
AMD Ryzen 4000 Series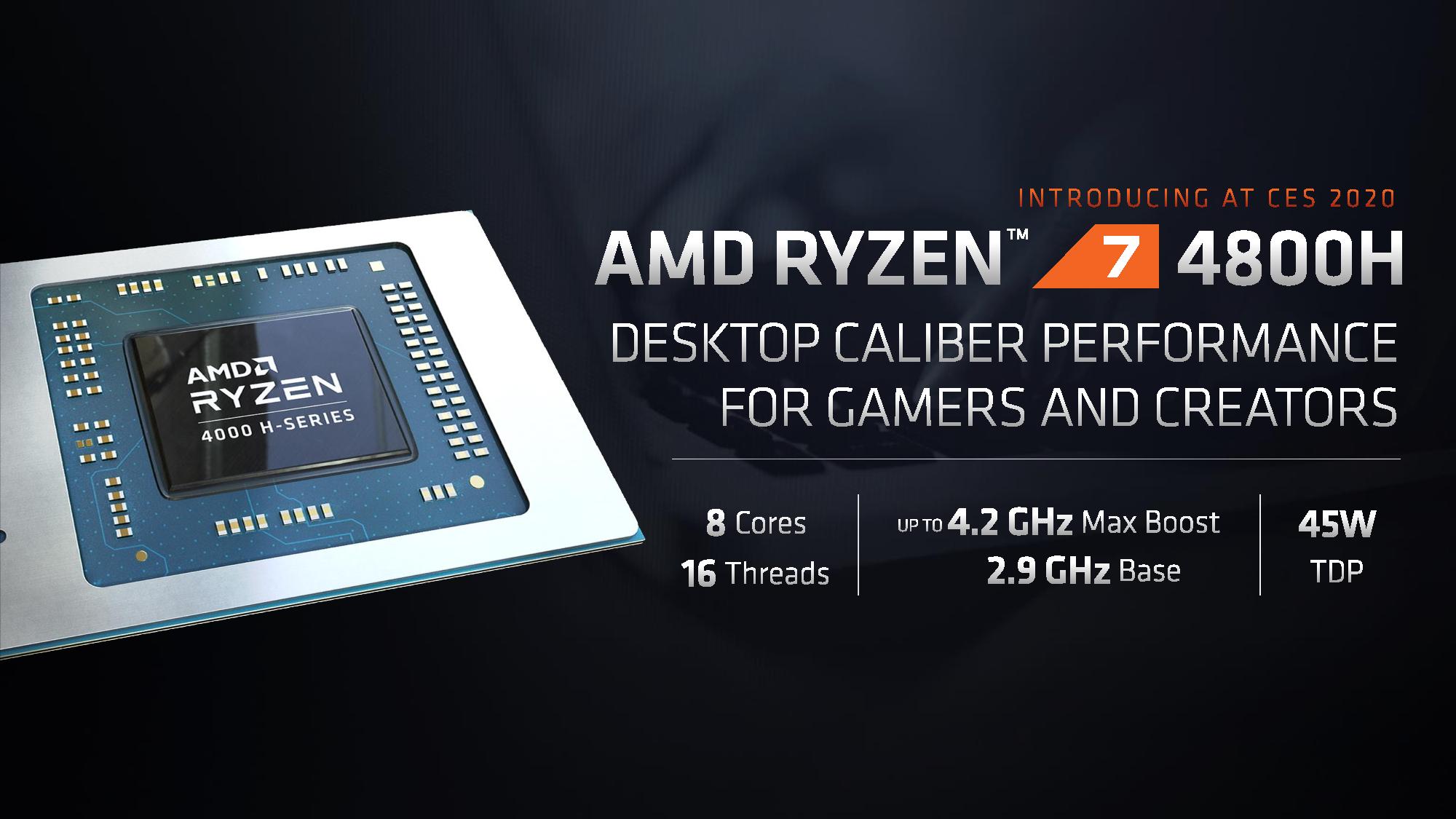 Yup not only did AMD just crown themselves the King of desktop CPUs, but the company also announced a family of Ryzen 4000 mobile processors for laptops. These new CPUs are based on AMD's 7nm manufacturing process, the same utilized for the desktop Ryzen 3000 series of processors. The new Ryzen 7 4800U rocks eight cores and 16 threads, the same as the Ryzen 7 4800H, but the latter comes with higher clock speeds and TDP of just 45W. AMD compared the 4800U against Intel's Core i7-1065G7 with comparable single-core performance but utterly smashing it in multi-core and graphics.
At their CES 2020 press conference, AMD proclaimed that their Ryzen 7 4800H would easily outperform the Intel Core i7-9700K, a desktop processor. Fighting words Intel.
Razer Kishi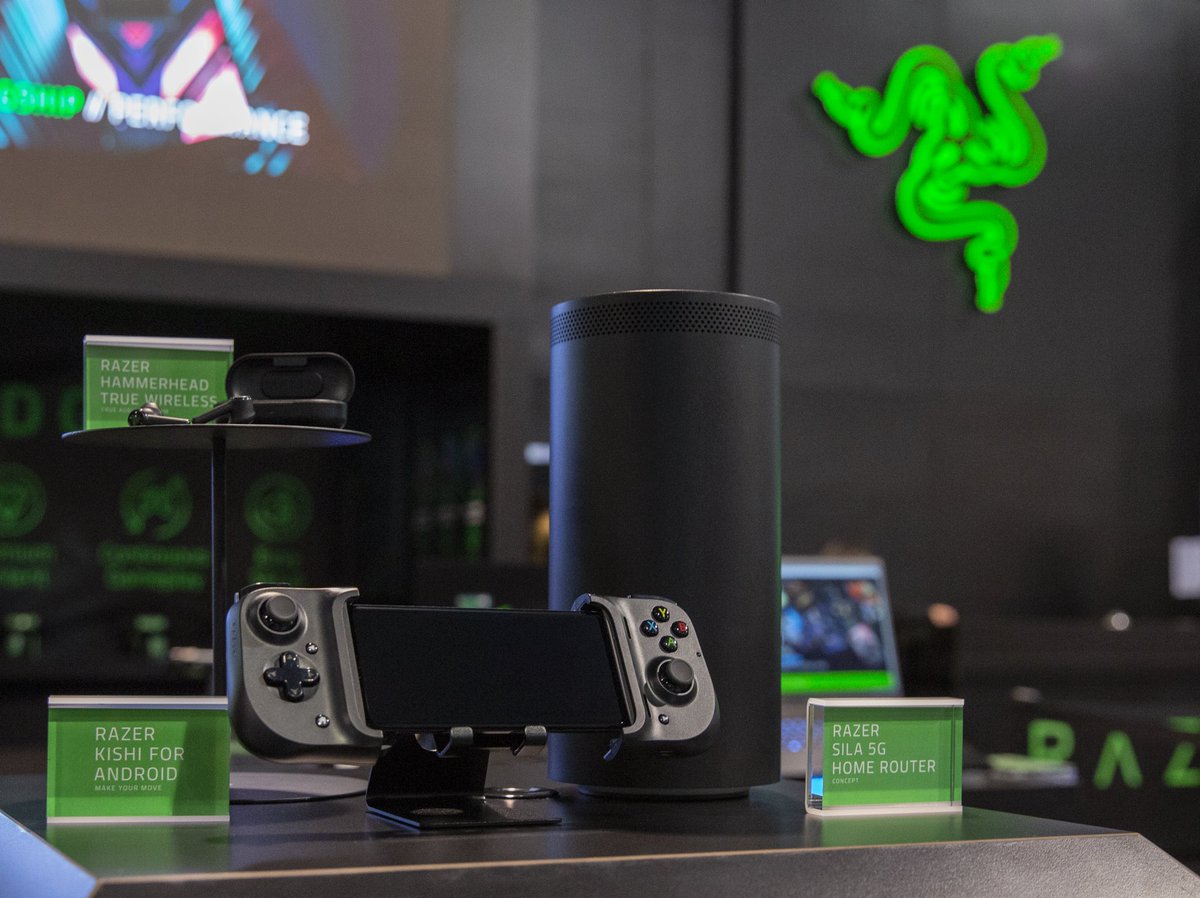 Mobile gaming is here to stay, no longer just a medium for the casual player, mobile games have entered the world of esports. If you're playing for a long time on your phone or are playing competitively, you're going to want to have some additional precision controls. The kind that's only possible by moving thumbsticks and pressing face buttons. The Razer's Kishi controller is for serious mobile gaming sessions. Developed in partnership with Gamevice, the accessory plugs directly into any USB-C smartphone. No Bluetooth required. Which is great for keeping latency as low as possible.
The Kishi comes with a "universal fit" thanks to its Gamevice belt on the back. It can stretch to accommodate XL-sized Pixels, most Samsung phones as well as iPhone 7 and beyond. In theory, any recent phone with a USB-C socket or Lightning port positioned in the middle should be compatible. The Razer Kishi is the perfect accessory for all you mobile PUBG and Fortnite players. As well as for those on mobile game streaming services such as xCloud and Stadia. The Kishi will be launching in the first quarter of 2020. The price has yet to be announced but it should be at the same range as the USD$100 Junglecat.
Asus ROG Zephyrus G14
If you've been waiting for a new gaming laptop the ROG series by Asus is one to consider. Extremely lightweight, you'd never guess that this unassuming 14-inch laptop is packing an Nvidia RTX 2060 graphics card inside. Just 17.9mm thin, the 14" gaming laptop is ultraportable, and weighs as little as 1.6kg Not impressed? There's so much more. The G14 also has AMD's new Ryzen 4800HS processor, an 8-core, 16-thread monster. While also having some impressive specs with up to 32GB of RAM and up to 1TB of NVMe solid-state storage. It's designed for gaming, but the G14's hardware is sure to appeal to creators, as well. The G14 is slated to launch in the first half of 2020. Pricing is not yet available.
Asus ROG Strix GA35 & GT35
Asus while not the flashiest at CES 2020 has some very solid products on display. In addition to its laptops have a powerful set of desktop PCs available. The ROG Strix GA35 features AMD's latest Ryzen processors, up to the 16-core, 32-thread Ryzen 9 3950X. Seated in our ROG Strix X570-F Gaming motherboard alongside up to 64GB of DDR4-3200 RAM, this processor offers blistering performance in heavily-threaded applications and particularly excels at multitasking. The upcoming Strix GT35 will feature Intel's 10th Gen Core processors. Graphics card options from NVIDIA, ranging up to an ROG Strix GeForce RTX 2080 Ti, completing the package.
For those of you that are worried about cooling have no fear. The case is subdivided into three cooling zones that separate the CPU, graphics card, and power supply, an arrangement that prevents one component's heat from affecting the performance potential of the others. A liquid cooling loop with a 240-mm radiator keeps CPU temperatures low, while wide air vents cleverly integrated into our Wind Shear chassis design keep fresh air available to all components. Efficient no?
Acer Predator CG552K Monitor
For those of you that can't afford the gorgeous Samsung Odyssey G9 Monitor, well you're pretty much the 99%. But don't worry because Acer has launched a pretty solid 55-inch OLED Monitor. The Predator CG552K brings to the table everything that the OLED technology generally has to offer, and adds a 120 Hz maximum refresh rate along with variable refresh rate technologies supported by modern GPUs from AMD and NVIDIA.
Since Acer uses an advanced OLED panel, they are able to offer not only a very high contrast ratio but also extremely deep blacks, a 0.5 ms response time, as well as a 120 Hz refresh rate, one of the most important features for any gamer. To take advantage of the high refresh rate, the Predator CG552K supports three (ish) variable refresh rate technologies, including HDMI 2.1 VRR (currently supported by Xbox One), VESA's Adaptive-Sync (which means that the display will probably get AMD's FreeSync certification), and NVIDIA G-Sync compatibility (which is likely piggybacking on HDMI-VRR).
The Predator CG552K will be available in Q3 of 2020 and it'll set you back a cool USD$2,999. Start saving now.
Origin The Big O
Remember Origin PC's ridiculous franken-gaming-machine that combined an Xbox One X, PlayStation 4 Pro, Nintendo Switch and Windows-powered PC? At the time, it was just a marketing gimmick designed to celebrate the company's 10th birthday. The stunt was a huge success, though, so Origin PC has made a version that people can actually buy. Something in the same vein, anyway. The 2020 'Big O' puts a custom gaming PC and a single console — a PlayStation 4 Pro or Xbox One S All-Digital Edition, inside a dual-chamber Corsair Crystal Series 280X case.
The Big O uses original console hardware, though you can choose to upgrade the Xbox or PlayStation's stock hard drive to a faster SSD. Both 'halves' of the Big O have their own power connections and HDMI ports so that you can run them simultaneously and, if necessary, on separate TVs or monitors. Crazy right? But wait how much does it cost? The cheapest 2020 Big O will set you back an already eye-watering USD$2,499. Insane.
Razer Eracing Simulator
CES 2020 is the place where people flex their tech and oh, mama do we have a big one. Razer on top of all their success set up a high-end racing seat and display. The Eracing Simulator combines a hydraulic racing seat, a projection screen and a high-end gaming wheel and pedals into a single gigantic product. Razer describes the setup like this: "The center core sits on a motion platform powered by two actuators and a gaming control box for a professional racing training setup that maps terrain surfaces, G-force and sounds into motion."
Meanwhile, the 128-inch curved projection screen offers a 202-degree field of view and a separate motor will contract the racing harness (you know, the seatbelt) as you drive, simulating the G-force of taking a sharp corner. Rounding things out is a steering wheel made of anodized aluminium and carbon fibre, then wrapped in leather. There are also magnetic paddles and a set of three-foot pedals. This probably costs more than some cars.
Tagged:
2020
acer predator
acer predator cg552k monitor
Alienware
amd
amd ryzen
amd ryzen 4000
amd ryzen threadripper 3990x
asus rog
asus rog strix ga35
asus rog strix gt35
asus rog zephyrus g14
ces
ces 2020
concept ufo
consumer electronics show
dell
dell alienware concept ufo
dell allienware
dell concept ufo
esports
las vegas
mobile gaming
nintendo switch
origin
origin pc
PlayStation 4
playstation 5
ps4
ps5
razer
razer eracing simulator
razer kichi
Republic of Gamers
ryzen 4000
samsung
samsung odyssey
samsung odyssey g9
tech
technology
the big o
xbox one
xbox one x