Will Minecraft Earth Be The Next Pokémon GO? We'll Find Out This Month
Minecraft Earth is has been a long time coming and it's Microsoft and Mojang's answer to AR gaming. Following in the footsteps of Pokémon GO and Harry Potter: Wizard's Unite. The game will brings the creativity and fun of the classic block building Minecraft experience into the real world.
Before you ask, Minecraft Earth will be a free-to-play game with staggered early access starting this month. Closed beta has already been launched in a number of cities including London, Mexico, Seattle, Stockholm and Tokyo. The company hopes to go worldwide by the end of the year.
Gameplay
In Minecraft Earth, you'll be building structures and fighting off Creeps instead of catching pocket monsters. Fans of the traditional Minecraft experience will also be pleased to know that many core features will also be available in Minecraft Earth. This includes things like collecting unique variants, exploring the entire world, and more.
Some of the gameplay features that we know will be in Minecraft Earth are adventures and tappables. Much like the PokéStops and PokéGyms. In the real world you'll be able to find small clusters of blocks, chests, or mobs called Tappables. These will give you your resources needed to build. As you walk, you'll also find Adventures, which are small slices of Minecraft worlds that you play in life-size AR — your sidewalk becomes a mine where there may be diamonds under your feet, or your local park may have Minecraft trees where skeletons lurk, ready for a skirmish! Players will collect resources, fight mobs, and gain experience points to progress in their career.
Another important feature, of course, is the build function. It wouldn't be a Minecraft game without it. Build your own permanent creations in Minecraft Earth through Build Plates. Build in small, tabletop-sized environments where you can interact from above, or place your Build Plates on the ground to see your creations outside in life-size scale.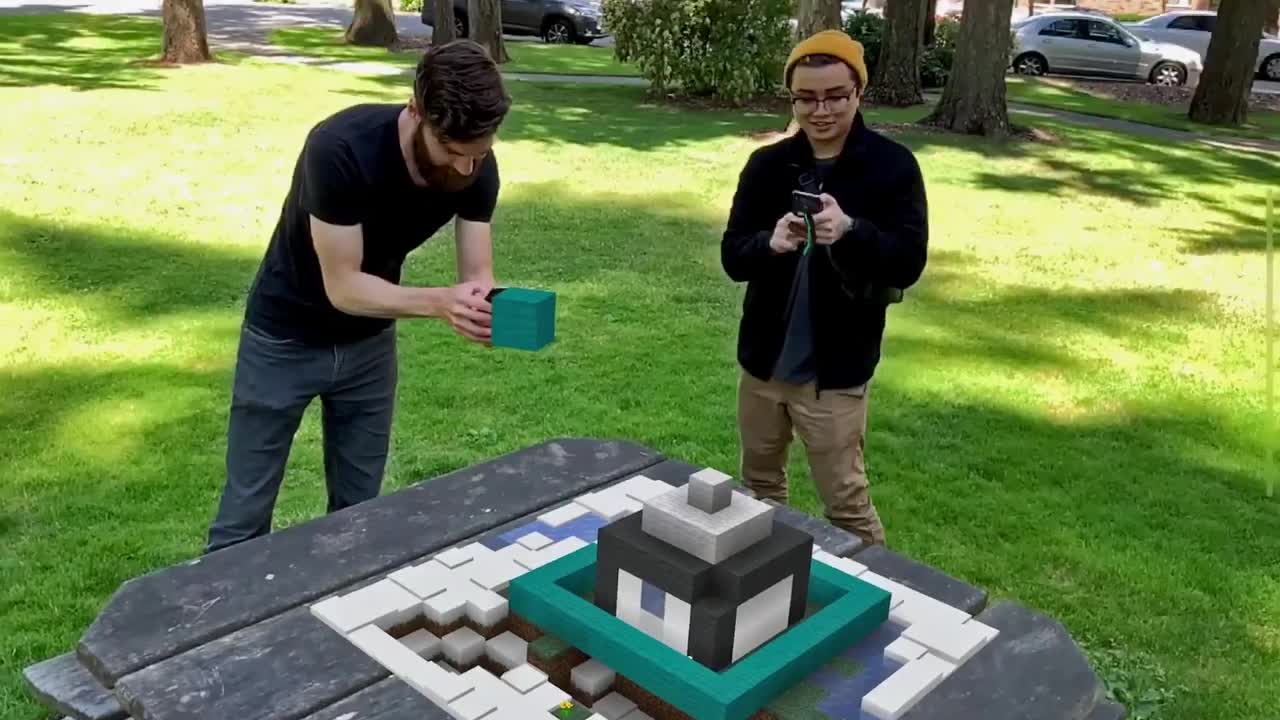 Let's hope that Minecraft Earth will launch better than Niantic's Harry Potter: Wizards Unite. In that case, the source material had a huge fan base but the game itself didn't connect well to the audience. The gameplay imo deviated too much from its source material and in the end wasn't as interesting as just catching Pokémon. Minecraft Earth, meanwhile, has a concept that immediately marries AR, real-world travel and the core concept of Minecraft's building and exploration in a way that makes perfect sense.
Minecraft Earth will launch on Android and iOS with in-app purchases. If you have an Android device the game is available for pre-registration.
Tagged:
android
app store
ar
ar game
ar gaming
augmented reality
blocks
build plate
creeps
google play
google play store
ios
minecraft
minecraft earth
mobile
mobile game
mobile gaming
mojang
sandbox
sandbox game
tappables
xbox
xbox game sutdios