All The Marvel Movies After Avengers: Endgame
Just like that Phase 3 of the MCU is almost at an end, with Spider-Man: Far From Home as the final chapter this summer. No Endgame reviews or spoilers here just a look at all the Marvel movies coming up.
Marvel Studios president Kevin Feige is keeping a tight lid on the future of the MCU. "As we've been doing for years, we aren't going to announce anything post Avengers: Endgame or Spider-Man [Far From Home] until post Endgame and Spider-Man," Feige told ComicBook.com. So, as of this writing, we'll have to wait a few more months to know confirmed details about what's to come from the MCU. However, there are a couple of hints as to what's coming down the line, and it's going to be a whole new direction for this universe and probably a lot of rebuilding.
Spider-Man Far From Home – July 2nd 2019
Apparently, Far From Home will not be the first movie in Phase 4 of the Marvel Cinematic Universe. The Spider-Man: Homecoming sequel is the only movie in the MCU with a set release date. After the first trailer dropped, we all realized that both Peter Parker and Nick Fury would survive Endgame.
Jake Gyllenhaal will be playing Mysterio, who is traditionally a villain in the comic books. However, in the trailer, it looks as though he'll be teaming up with Spider-Man in Europe.
Black Widow
Ever since The Avengers, fans of the MCU have been waiting for a solo Black Widow movie, and it's finally starting to come together. The film is rumoured to be a prequel, which means it could focus on Scarlett Johansson's Natasha Romanoff's life before she joined SHIELD — or perhaps even a few of her earlier missions (hello Budapest).
Back in July 2018, Marvel approached more than 60 female directors to helm the project, and Cate Shortland was tapped to direct. Ned Branson was brought on to write the film, and it's been in pre-production ever since. Filming is set to begin in June 2019 so this may be the first Marvel film of 2020.
Black Panther 2
At the 2019 Academy Awards, Black Panther won three Oscars for Best Original Score, Best Costume Design and Best Production Design. The movie made $1.3 billion dollars worldwide. That only means one thing, sequel time.
We don't know much now but we do know that Ryan Coogler will return as director and it's confirmed that Chadwick Boseman and Letitia Wright will reprise their roles as T'Challa and Shuri respectively. Additionally, it will go into production in late 2019 or early 2020. So don't expect this movie until 2021.
Shang-Chi
Shang-Chi will be Marvel's first Asian-led superhero movie. Marvel is bringing in Asian-American director Destin Daniel Cretton to direct. Much like Iron Fist, Shang-Chi was created in the kung fu craze of the 1970s. Unlike Iron Fist, Shang-Chi is fully Chinese and doesn't have superpowers.
Shang-Chi is a martial arts expert who's really good at defending himself and beating people up. His training has given him the abilities to dodge bullets, focus in on sounds, and have keen reflexes. He's a mortal human who has spent his life training in his craft. Not much else on casting or plot or production information on Shang-Chi. But there are rumours it will be filmed in Sydney.
Doctor Strange 2
from Doctor Strange GIFs via Gfycat
Things are slowly coming together for Doctor Strange 2. Director and writer Scott Derrickson will return to helm the film, but there is still a search going for a scriptwriter. Benedict Cumberbatch will return to play the role of Stephen Strange. While Rachel McAdams, Benedict Wong, and Chiwetel Ejiofor will reprise their MCU roles. We don't know much but it is rumoured that Nightmare – an evil ruler of the "Dream Dimension" — is set to be the main antagonist.
There are no other firm details, but it is believed that the movie will begin production in spring 2020 with a May 2021 release date.
The Eternals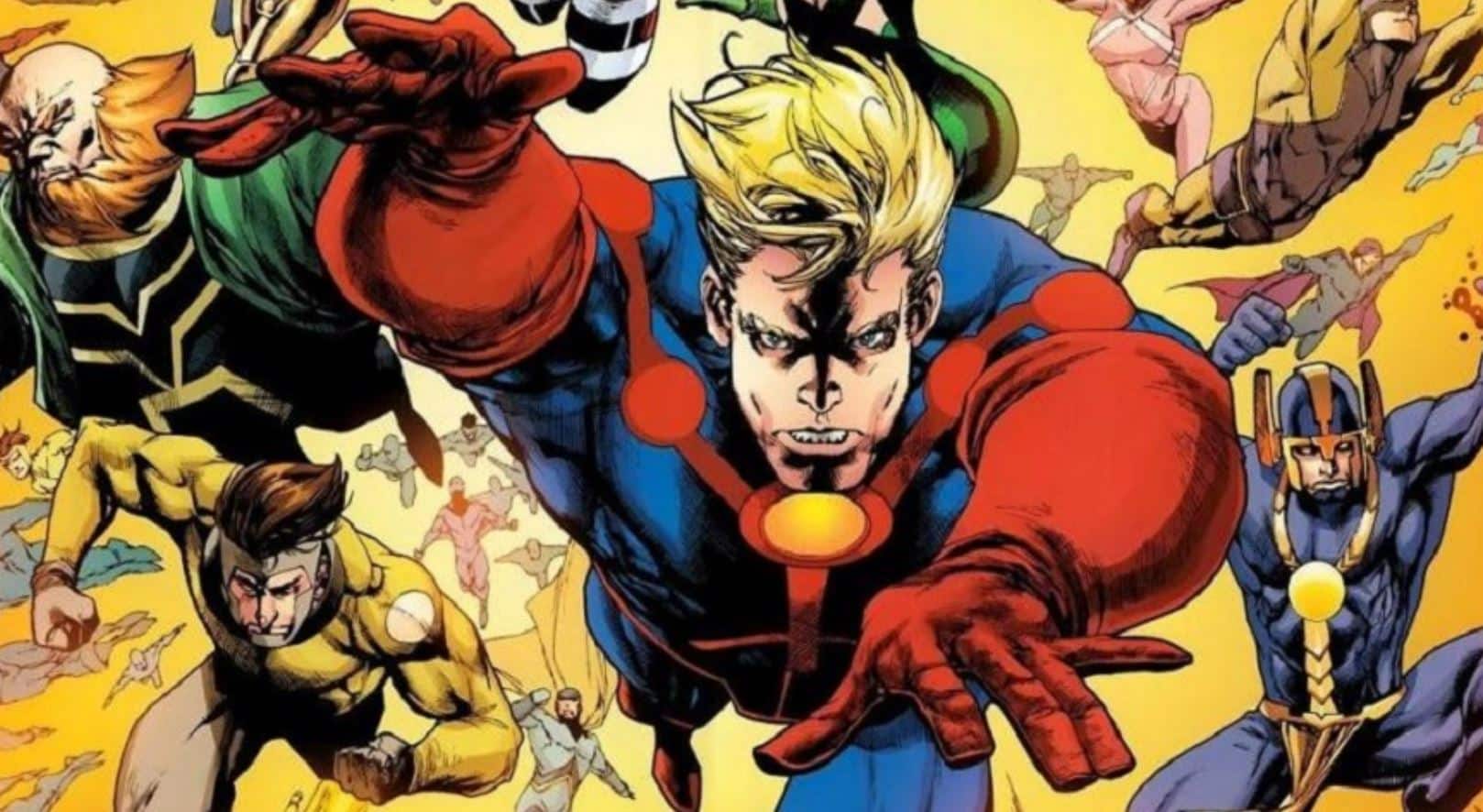 It's a year since The Eternals was teased. Back in April 2018, Marvel Studios president Kevin Feige spoke about the upcoming film with The Wrap. "Eternals is one of many many many things that we are actively beginning to have creative discussions about to see if we believe in them enough to put them on a slate," Feige explained.
The Eternals are a super-powered offshoot of early man, with functional immortality. The Celestials – the oldest beings in the Marvel Universe – came to Earth and altered some human genes, a million years ago. Gifting these humans long lifespans and incredible superpowers. Like the Asgardians, the Eternals have a heavy hand in shaping Earth's mythology. For instance, most of them were immortalized in human myth, like the Eternal Sersi, who inspired the Greek story of Circe.
Angelina Jolie will reportedly play the lead role of Sersi. Kumail Nanjiani is rumoured to co-star. It is rumoured that the movie would focus on a love story between Sersi and another Eternal named Ikaris. Filming will begin in Aug. 2019, so once again, expect a 2020 release date at the earliest.
Guardians of the Galaxy Vol. 3
from Guardians Of The Galaxy GIFs via Gfycat
The third movie in Marvel's cosmic franchise has been through some trying times. After Disney fired James Gunn over a series of controversial tweets, the third instalment of Guardians existed in limbo. In March, however, Disney rehired Gunn and the project was back on track — albeit pushed further than the original 2020 release date.
Filming for Guardians of the Galaxy Vol. 3 won't begin till after Gunn wraps up Suicide Squad 2. Which is currently set to begin filming in 2019 and release on Aug. 6, 2021.
Ms Marvel
Kamala Khan is better known as Ms Marvel, an Inhuman superhero who idolizes Captain Marvel. Back in May 2018, Kevin Feige stated that there is a plan for a Ms Marvel movie, but they wanted to introduce Captain Marvel first.
Khan made her debut in 2013 at Marvel Comics and found a legion of fans who loved the character who "embiggens" as her super-power (she can stretch, grow and shrink, and even shapeshift). That's all we know. At this point in time, it's unknown as to whether this is actually in pre-production or not.
Captain Marvel 2
After one week in the theatres, Captain Marvel amassed $569 million dollars worldwide, according to Box Office Mojo. It's not slowing down and will continue to make money right up until Avengers: Endgame hits theatres. However, a sequel for this movie is not out of the question. The only MCU movie to not get a sequel–or have one in the works–was The Incredible Hulk because that was a box office flop.
There is no confirmation or even a hint that Captain Marvel 2 will happen, but why introduce this huge character and only give her one movie?
Tagged:
2019
2020
2021
2022
agents of shield
angelina jolie
avengers
avengers endgame
benedict cumberbatch
benedict wong
black panther
black panther 2
Black Widow
brie larson
captain marvel
cate shortland
Chadwick Boseman
Chiwetel Ejiofor
destin daniel cretton
destin retton
disney
doctor strange
doctor strange 2
dream dimension
endgame
far from home
guardians of the galaxy
guardians of the galaxy vol 3
ikaris
iron fist
jake gyllenhaal
james gunn
kamala khan
kevin feige
kumail nanjiani
letitia wright
marvel
marvel cinematic universe
marvel movie
marvel movies
marvel studios
mcu
Ms Marvel
mysterio
natasha romanoff
ned branson
nick fury
nightmare
peter parker
Rachel McAdams
ryan coogler
scarlett johansson
scott derrickson
sersi
shang-chi
shield
shuri
spider man
spider-man
spider-man far from home
spiderman
stephen strange
suicide squad 2
t'challa
the eternals
wakanda