The Umbrella Academy Explained
Trying to figure out what The Umbrella Academy is about before adding it to your binge roster? Well, we're here to help school you on Dark Horse's The Umbrella Academy, out now on Netflix. If you haven't watched the series and are sensitive to spoilers, don't read this.
The Story
Based on the comic book series created by Gerard Way, The Umbrella Academy it follows the estranged members of a dysfunctional family of superheroes. The Monocle, Spaceboy, The Kraken, The Rumor, The Séance, Number Five, The Horror, and Vanya.
The story takes place in an alternate timeline of 1977 where John F. Kennedy was never assassinated. Around this time, were 43 children born to mothers who had shown no signs of pregnancy beforehand. Seven of these children are adopted by billionaire Sir Reginald Hargreeves who educates them and helps hone their emerging superpowers. Years later, the group reassembles in the wake of his death to stop a supernatural threat – The Apocalypse.
The Monocle – Sir Reginald Hargreeves
Sir Reginald Hargreeves played by Colm Feore, goes by The Monocle. He's quite the renaissance man, holding such titles as Inventor, Entrepreneur, Olympic gold medalist, Nobel Prize winner, and, of course, terrible father. Oh, also he's a space alien. He's the eccentric billionaire who adopted all of the so-called "strange" children that make up the Umbrella Academy superhero team.
Far from being a father figure, he treats his children as his investments. Only referring to them by their code names and running weird experiments on them while they sleep. The Monocle's unfortunate death brings the team back together for the first time in a decade.
Number 1: Spaceboy – Luther Hargreeves
Assigned numbers by Sir Hargreeves in order of their usefulness to him, Luther is the de facto "leader" of the Umbrella. He's got super-strength and excels at everything he tries. Leading him to become the world's youngest-ever astronaut, earning him the nickname "Spaceboy." After a disaster on Mars, Hargreeves could only save him by transplanting Luther's head onto the body of a Martian Ape. His new body leaves Luther impervious to most harm, including the vacuum of space — as long as he wears a helmet.
Upstanding to a fault, Luther always tries to do the right thing, even if that means putting others before himself. He is a resilient workaholic who has been groomed to lead The Umbrella Academy from a young age. As an adult, he spends most of his time on the Moon, on the watch for potential world-ending threats, alone except for his robot assistant Ben.
Luther is played on the series by Tom Hopper, from Black Sails, as well as the replacement Dickon from Game Of Thrones.
Number 2: The Kraken – Diego Hargreeves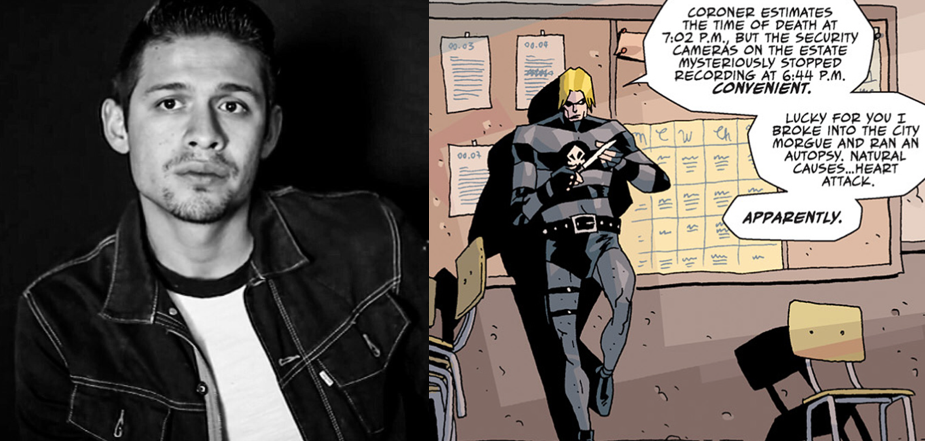 An expert knife-thrower who can also hold his breath indefinitely, Diego has spent his post-grad life as a Batman-like vigilante, prowling the streets and stopping petty crime. Diego is the belligerent brat of the family. He is not a very charismatic individual nor is he anywhere near as talented as his super siblings. All his life he's had to work twice as hard and he has a massive chip on his shoulder. He's generally at odds with his brother Spaceboy.
You may have seen David Castañeda, who portrays Diego, on shows like Switched At Birth, Jane The Virgin, and Blindspot, as well as in the recent action sequel Sicario: Day Of The Soldado.
Number 3: The Rumor – Allison Hargreeves
The world is what we make it… or at least that's true for Allison, who has the ability to alter reality itself by lying. If she ever says anything that's not true, that thing instantly becomes true — a potent but dangerous power not to be trifled with. She is able to bend reality to her will with whatever she says. One time she created a duplicate of herself after she lied about going to the library to study polygraph science. She was really out with a Polynesian knife-thrower. When she was a child, her left arm was eaten by mad scientist Dr. Terminal and later replaced with a cybernetic one.
The Rumour ended up giving up her superhero lifestyle and tried to live a regular life. She even got married and had a child but it didn't last.
Portrayed by Emmy Raver-Lampman she's a Broadway star last seen on Hamilton.
Number 4: The Séance – Klaus Hargreeves
Klaus Hargreeves is definitely the most unhinged and morbid of the group. He at one time had to check himself into a comatose ward at a psychiatric hospital. He chose that ward because he simply enjoyed the company. Klaus possesses a crazy set of powers that include telekinesis, levitation, and some level of psychic ability. This psychic ability allows him to speak to the dead and possess the living. At one point in the comics, Number Four is killed but rejected from both Heaven and Hell.
What really sets him apart from literally any other character with powers is his weakness. His abilities are rendered useless when he's wearing shoes. A pair of sneakers take this hero out of the game.
Number Four is played by Robert Sheehan, most recognisable from Misfits. He's also appeared in several big-budget tentpoles and blockbusters, including The Mortal Instruments: City Of Bones, Geostorm, and Mortal Engines.
Tagged:
adam godley
aidan gallagher
allison hargreeves
alternate reality
alternate universe
au
ben
ben hargreeves
cameron britton
cha-cha
colm feore
comic
comic book
dark horse
diego
diego hargreeves
dr terminal
ellen page
emmy raver-lampman
gerard way
graphic novel
hazel
john magaro
kate walsh
klaus
klaus hargreeves
luther
luther hargreeves
mary j blige
moon
netflix
number 1
number 2
number 3
number 4
number 5
number 6
number 7
pogo
robert sheehan
sir reginald hargreeves
spaceboy
superhero
superhero comic
temps aeternalis
the horror
the kracken
the monocole
the rumor
the seance
the umbrella academy
the white violin
tom hopper
TV
tv series
umbrella academy
vanya hargreeves