Call Of Duty Infinite Warfare Trailer Reveal
Around this time every year, one of three rotating studios (Infinity Ward, Treyarch, or Sledgehammer Games) announces a brand new Call of Duty game. Last year, Treyarch took their turn with Call of Duty: Black Ops III, and the year before that was Sledgehammer's debut COD game, Call of Duty: Advanced Warfare. Today, Infinity Ward (COD: Ghosts, Modern Warfare series) announced that they'll be taking players to the future with Call of Duty: Infinite Warfare on November 4, 2016.
The reveal shouldn't come as a surprise; it follows a week of rumours regarding the next Call of Duty's title and premise–which had been leaked on the PlayStation store and sticks to Activision's announcement schedule. That being said, the trailer is sure exciting to watch. While we don't have too many details at the moment, aside from the fact that there will be an "original" co-op Zombies mode, we got a glimpse at the gameplay–which, spoiler alert, includes space combat!
"This year, we're both honouring the heritage of Call of Duty while taking players to incredible new heights," said Eric Hirshberg, CEO of Activision Publishing. "Call of Duty: Infinite Warfare is a bold, new vision from the studio that created the original Call of Duty and Modern Warfare, and an adventure on an insanely epic scale that only Call of Duty could deliver. And Call of Duty: Modern Warfare Remastered is one of the most beloved games of all-time, reborn for a new generation. We have lovingly remastered it with a whole new level of graphical fidelity and realism that wasn't possible when the original was released. It's going to be a great year for Call of Duty players."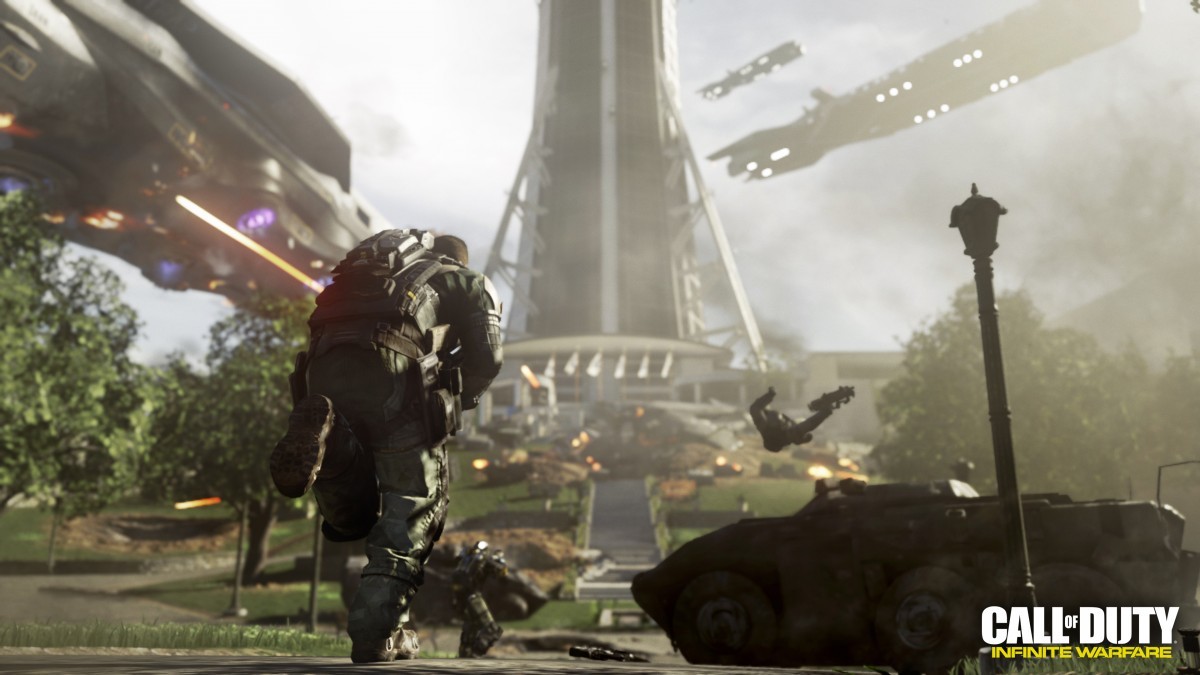 "With Call of Duty: Infinite Warfare, we are taking Call of Duty to places fans have never experienced in the series," said Dave Stohl, Studio Head of Infinity Ward. "On one hand, this game is the kind of gritty, boots on the ground, visceral war story that Call of Duty is known for. On the other, its future setting takes players on a journey of epic scale and proportions, providing incredible gameplay innovations and new experiences for our fans. This is a grand scale, old-school, all-out war in an epic new-school setting. And it's going to be a hell of a lot of fun."
Here's the official description:
"Call of Duty: Infinite Warfare returns to the roots of the franchise where large-scale war and cinematic, immersive military storytelling take center stage. Prepare for a gripping war story in which players fight against the Settlement Defense Front to defend our very way of life."
A remastered version of Call of Duty: Modern Warfare is also on the way, and will be included in several special edition versions of Infinite Warfare for those who pre-order. As fans of MW, we're particularly excited to see the game make it's way to the current generation of consoles.
Tagged:
activision
activision publishing
call of duty
call of duty: infinity warfare
cod
cod: ghosts
cod: infinity warfare
dave stohl
eric hirshberg
infinity ward
modern warfare
sledgehammer
sledgehammer games
treyarch